Get Fit With Your Wellness App—at Home and at Work
Carolyn Odell is heading to bed soon. But first she checks her Virgin Pulse® app, which is available through her BCBSRI health plan. She's close to her goal of 7,000 steps for the day. She could help her team win the walking challenge at work. So she does a few laps through her house, her Fitbit® tracking her steps and recording them in the app.
"It makes wellness contagious," says Carolyn, the HR generalist/officer who helps lead BankNewport's wellness program. "We've had walking competitions for years at BankNewport, but the Virgin Pulse app makes it so easy. You can see your progress in real time."
It's fun—and full of rewards
BankNewport was one of the first worksites to try out the Virgin Pulse website and app, and more than 65% of their employees are already using it. And so can you, through your BCBSRI plan!* Now it's easy and fun to be active—at no cost.
You can use the award-winning Virgin Pulse program on your phone, tablet, computer, or watch. Earn points and get motivated with these Virgin Pulse features:
Activity, weight, sleep, and mood trackers
Healthy team challenges with friends and colleagues
Customized nutrition tools
A community of members with the same health goals
A health assessment that rates your health from 1-100
Content that you can personalize based on your interests
You may even be able to earn financial rewards by using Virgin Pulse!
Want to give it a try?
Access your wellness program in three simple steps.
Sign up – Go to join.VirginPulse.com or download the app** to get started.
Choose Blue Cross & Blue Shield of Rhode Island as your sponsor.
Connect your Fitbit® or other wearable device to track and sync steps with the app.
BankNewport stays well at work—and you can too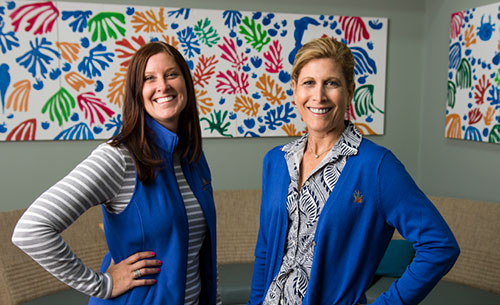 Carolyn Odell and Wendy Kagan
For more than 10 years, BankNewport has worked with BCBSRI on their wellness program. "Our employees really enjoy it," says Wendy Kagan, executive vice president, director of employee and community engagement at BankNewport. "It makes us more active and has also helped employees head off serious health issues."
BankNewport's program includes fitness classes, quiet rooms with adult coloring books, an on-site gym, and incentives for having annual checkups. If your employer offers similar programs, take advantage of them! If not, suggest the ideas below to your employer, and track them using Virgin Pulse.
Walking competitions
Stair-climbing challenges
Rewards for completing the health assessment
Healthy cook-offs (using Virgin Pulse recipes)
*Virgin Pulse is available to BCBSRI subscribers (the primary person on the BCBSRI health plan) and their spouses. Not available with all plans.
**Standard mobile phone carrier and data usage charges apply. The downloading and use of the Virgin Pulse mobile app is subject to the terms and conditions of the app and the online stores from which it is downloaded.
---