Rhode Ahead: Healthy Living

Introducing The Rhode Ahead: Healthy Living
Blue Cross & Blue Shield of Rhode Island (BCBSRI) recently started a new series with The Rhode Show on Channel 12 called Healthy Living. Watch Melissa Cummings, BCBSRI Executive Vice President and Chief Customer Officer, and Dr. Gus Manocchia, BCBSRI Executive Vice President and Chief Medical Officer, kick off the series. 
Tune in often to discover tips on sun safety, fitness, eating well, and much more. On this page, you'll find clips from the show and more information about each topic.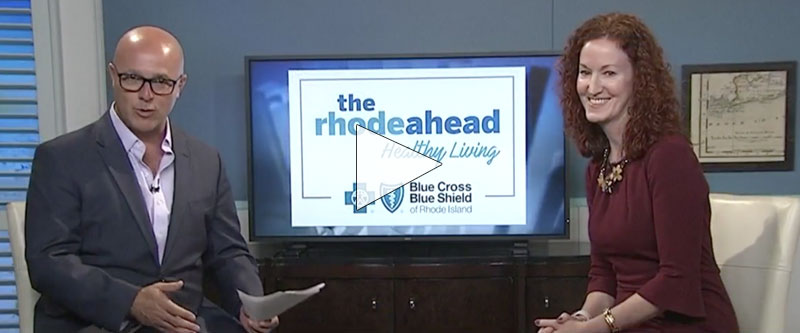 ​
Find Help With Choosing a Medicare Plan
Are you buying a Medicare plan for yourself or helping a loved one find a plan? You have between now and December 7 to make your decision, and knowing what to look for can make your choice easier. Watch Melissa Cummings, BCBSRI Chief Customer Officer, talk about how to find a plan that covers your needs—and keeps you active and healthy.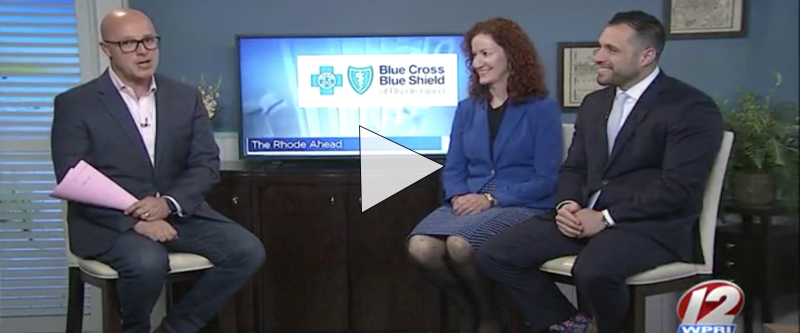 ​
Saving Money on Healthcare
Interested in simple tips for saving money on healthcare? Watch BCBSRI Chief Customer Officer Melissa Cummings and BCBSRI Managing Director of Employer Segment Sales and Broker Relations George Tager talk about smart ways to save money on doctors' visits and more. You'll also learn about the Wellness Premium Reward Program, which helps small businesses earn up to 8% back on medical premiums.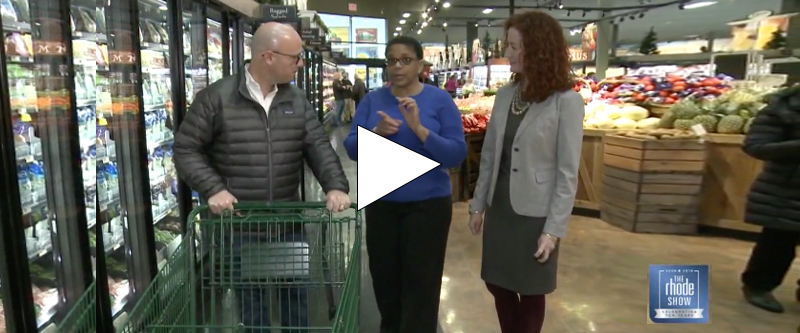 ​
Find Easy Tips for Healthy Eating
Watch as BCBSRI Chief Customer Officer Melissa Cummings and BCBSRI dietitian Roslyn Grant visit Dave's Marketplace to talk about how to choose heathy foods. You can find even more information about nutrition—and lots of great recipes—in our Eat section.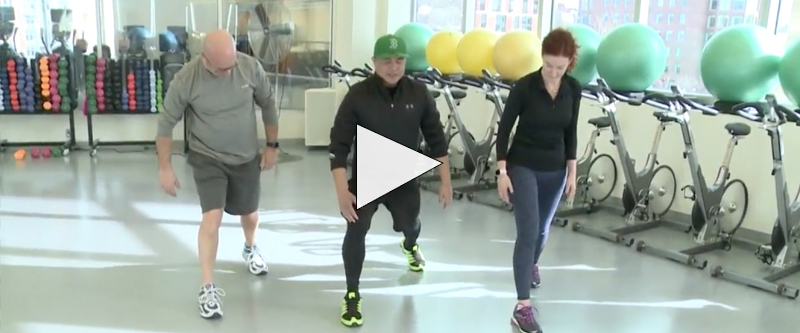 ​
Staying Motivated to Keep Fit
Watch Melissa Cummings, BCBSRI Executive Vice President and Chief Customer Officer, talk with fitness specialist Antonio Grajo about how to start—and stick with—an exercise plan. If you're a BCBSRI member, you can also get fit with our well-being program or by taking free fitness classes at Your Blue StoreSM. 
Exploring Your Blue Store
Have you driven by a Your Blue StoreSM location in East Providence, Lincoln, or Warwick and wondered what you can do there? You can get your questions answered, take free fitness classes, talk with a nurse, and have health screenings. Find out more in this Rhode Show segment with BCBSRI Chief Customer Officer Melissa Cummings.
Small Steps to Well-Being
Learn how you can take small steps to improve your health—and how BCBSRI can help! BCBSRI Chief Customer Officer Melissa Cummings talks about our well-being app and the free fitness classes offered at Your Blue StoreSM locations. Watch her Rhode Show segment.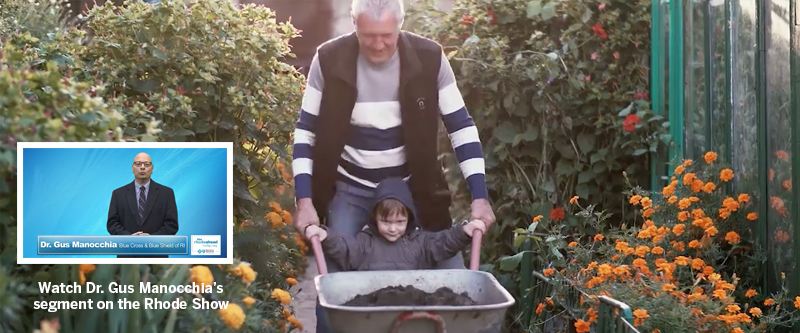 ​
5 Easy Tips to Prevent a Fall
Gus Manocchia, M.D., BCBSRI Chief Medical Officer
Falls are the number one cause of injuries in older adults, leading to broken bones, head injuries, and hospitalizations. But although your risk for falls increases as you get older, falls aren't a normal part of aging. You can help prevent them with five simple steps.
Talk to your primary care doctor. 
Less than half of older adults who've fallen tell their doctor about it. Be sure to let your doctor know if you've fallen and also ask them:

To evaluate your risk for falling
If any of your medications might make you dizzy or sleepy. Your doctor should review your over-the-counter medicines and prescription medicines—particularly tranquilizers, sedatives, or antidepressants.
What you can do to strengthen your bones
 

Do strength and balance exercises.
Try exercises that make your legs stronger and improve your balance, such as tai chi and yoga. Try these exercise suggestions designed specifically for people ages 65 and older. You can also take free fitness classes at Your Blue Store.
 
Have your eyes checked.
It's a good idea to see an eye doctor at least once a year and to update your eyeglasses if needed. If you have bifocal or progressive lenses, you may want to get a pair of glasses with only your distance prescription for outdoor activities. Sometimes bifocals can make things seem closer or farther away than they really are.
 
Wear sensible shoes and use a walker or cane if needed.
Consider the height of the shoes you wear and be sure they have enough traction. If you've been advised to use a walker or cane, keep it with you at all times. 
 
Make your home safer.
These changes reduce your risk of falls at home:

Add grab bars inside and outside your tub or shower and next to the toilet.
Make sure your home has lots of light by adding more or brighter light bulbs.
Keep floors free of clutter or wires that you could trip over. Make sure that all carpets and throw rugs are fastened to the floor.
Put railings on both sides of stairs.
Keep frequently used items within easy reach. Many falls occur when reaching for overhead items. Rearrange cabinets or drawers for quick access in preparing meals.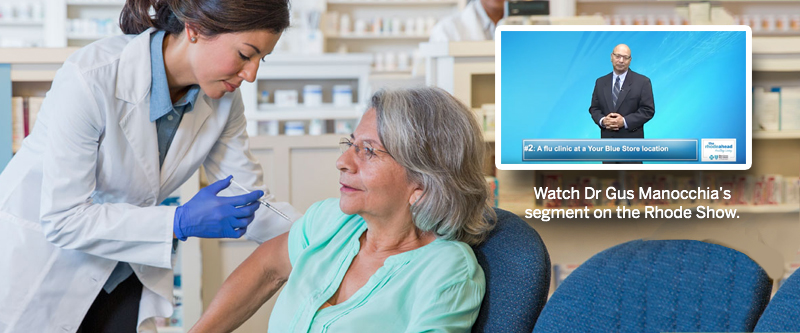 ​
Tips for Preventing the Flu from Dr. Gus
Gus Manocchia, M.D., BCBSRI Chief Medical Officer
How can you tell the difference between a cold and the flu? While the symptoms are similar—fever, body aches, tiredness, and cough—you usually get much sicker with the flu. More than 200,000 Americans end up in the hospital each year as a result of the flu. A flu shot, which is recommended for everyone six months of age and older, can help protect you, your family, and people around you. Find a location to get vaccinated.
These simple tips explain how you can prevent the flu and what to do if you get the flu.
How to prevent the flu
Get vaccinated every year.
Everyone who is six months of age and older should get the flu vaccine as soon as it is available. As a BCBSRI member, you can get vaccinated at no cost at your doctor's office or a participating pharmacy. Find a location.
Wash your hands the right way.
A study by Michigan State University found that only 5 percent of people washed their hands for 15 seconds or more after using the bathroom. That means 95 percent of people didn't wash long enough to kill the germs that spread the flu, colds, and other diseases—if they washed at all! It's best to scrub your hands with soap for 15 to 20 seconds, rinse, then dry your hands with a clean towel. When soap and water aren't available, use alcohol-based disposable hand wipes or gel sanitizers.
Protect your immune system.
Take care of your overall health by eating nutritious foods, exercising regularly, sleeping at least seven hours each night, and managing stress.
Know how long people are contagious.
People can infect others for up to a day before their symptoms start and five to seven days after they become sick. Children can be contagious for longer than seven days.
What to do if you get the flu
Call your doctor if you're at high risk for complications.
Antiviral drugs can be used for people at high risk for flu complications, including children younger than 5, adults older than 65, pregnant women, and people with chronic conditions such as diabetes or asthma. These drugs can mean the difference between having a mild case of the flu and having a more serious case. Call your doctor early on, because antivirals should be given within 48 hours of getting the flu.
Sneeze and cough into your elbow or sleeve (or use a tissue).
This helps keep the flu virus off your hands. People with flu can spread it up to six feet away by sneezing, coughing, or even talking. These airborne germs can land in the mouths or noses of people who are nearby or possibly be inhaled into the lungs. A person can also get the flu by touching a surface or object that has the flu virus on it and then touching their own mouth or nose.
Drink lots of fluids.
Since the flu often results in a fever and sometimes a sore throat, becoming dehydrated is a serious risk of the flu. This is particularly true for young children.
Stay home until symptoms are gone for 24 hours.
Stay home for at least 24 hours after your fever is gone without the use of fever-reducing medication. This is required by many schools and workplaces. You should also stay out of public places unless it's absolutely necessary (for example, going to the doctor or pharmacy). If you have a cold or the flu, avoid visiting others who may be more at risk for complications, such as the elderly.
When to seek emergency medical care
These warning signs indicate that you (or someone you're caring for) need emergency care.
In children
Fast breathing or trouble breathing
Bluish skin color
Not drinking enough fluids (in young children)
Not waking up or not interacting
Being so irritable that the child does not want to be held
In adults
Difficulty breathing or shortness of breath
Pain or pressure in the chest or abdomen
Confusion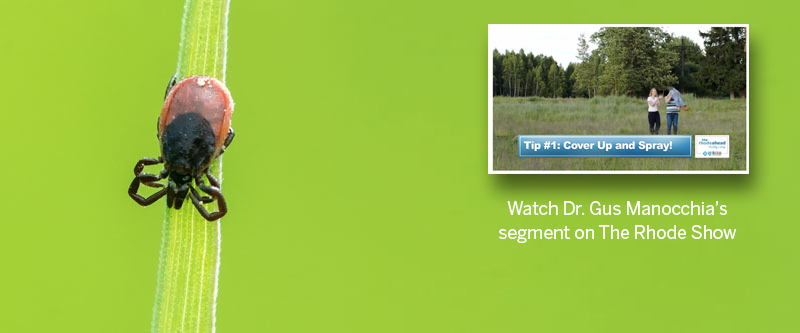 ​
Tips for Preventing Lyme Disease from Dr. Gus
Gus Manocchia, M.D., BCBSRI Chief Medical Officer
Lyme disease affects around 300,000 Americans each year, according to the U.S. Centers for Disease Control and Prevention—that's 10 times more people than previously thought. In Rhode Island, we have one of the highest rates of Lyme disease in the United States. However, there's plenty you and your family can do to stay safe.
---