Rhode Ahead: Healthy Living
BCBSRI recently started a new series with The Rhode Show on Channel 12 called Healthy Living. Watch Melissa Cummings, BCBSRI Executive Vice President and Chief Customer Officer, and Dr. Gus Manocchia, BCBSRI Executive Vice President and Chief Medical Officer, kick off the series.

Tune in often to discover tips on sun safety, fitness, eating well, and much more. On this page, you'll find clips from the show and more information about each topic.
| | |
| --- | --- |
| | Have you driven by a Your Blue StoreSM location in East Providence, Lincoln, or Warwick and wondered what you can do there? You can get your questions answered, take free fitness classes, talk with a nurse, and have health screenings. Find out more in this Rhode Show segment with BCBSRI Chief Customer Officer Melissa Cummings. |

7 Tips for Sun Safety from Dr. Gus
Gus Manocchia, M.D., BCBSRI Chief Medical Officer
It's finally summer, and that means we're at the beach, around the pool, in the backyard, or just taking a relaxing stroll on a lovely day. But with all that fun comes the potential for issues with your skin from sun exposure. I've had two skin cancers on my scalp over the last 5 years, so I understand the importance of sun safety—and want to help you and your family stay healthy.
According to the American Cancer Society, ultraviolet (UV) rays from the sun are the number one cause of skin cancer. These seven tips will help you protect your skin this summer.
1. Choose broad spectrum sunscreen.
There are two types of harmful ultraviolet (UV) rays from the sun—UVA and UVB—and broad spectrum provides protection against both. Be sure to keep your sunscreen out of direct sunlight (which can make it less effective) and check to make sure it isn't expired. You should throw away sunscreens after one to two years.
2. Apply sunscreen every two hours.
The sun's UV rays can damage your skin in as little as 15 minutes, so apply sunscreen when you're outside. Use about an ounce of broad-spectrum sunscreen with an SPF of 30 or higher—that's the equivalent of a shot glass—and reapply at least every 2 hours. Don't forget to reapply it again after swimming or sweating. Sunscreen works best when it's combined with the other tips I've offered below.
3. Stay in the shade.
Make sure to find shade between 10 a.m. and 4 p.m., when UV rays are strongest. Or, if you have to be in the sun, it's a good idea to use an umbrella. And remember, if you're in or on the water, sun reflects off the water and this can do damage as well.
4. Cover up.
Wearing long-sleeved shirts and long pants and skirts can provide protection from UV rays. Clothes made from tightly woven fabric offer the best protection. I know that isn't always practical, but it's a good idea to at least wear a T-shirt or a beach cover-up. Keep in mind that a typical T-shirt has an SPF rating lower than 15, so use other types of protection as well.

5. Wear a hat, but not any hat.
Choose a wide-brimmed hat that protects as much of your skin as possible. For the most protection, wear a hat with a brim all the way around that shades your face, ears, and the back of your neck. Straw hats are popular for the beach, but they let sunlight through. You'll be better protected from UV rays by a tightly woven fabric, such as canvas. If you wear a baseball cap, be sure to put sunscreen on your ears and the back of your neck.

6. Make sunglasses a big part of your summer.
Sunglasses protect your eyes from UV rays and reduce the risk of cataracts. They also protect the tender skin around your eyes from sun exposure. Sunglasses that block 99% of both UVA and UVB rays offer the best protection. Most sunglasses meet this standard, but it's a good idea to double check. Wrap-around sunglasses work best because they block UV rays from sneaking in from the side.
7. Don't be fooled.
According to the Skin Cancer Foundation, UV rays can pass through clouds, rain, and fog, so be sun safe even on those not-so-great summer days.
Skin cancer: what to watch for
As I mentioned, I've had skin cancer, which is the most common form of cancer in the United States. If you have any of the following skin cancer signs, please talk with your doctor.
• Irregular borders on moles (ragged, notched, or blurred edges)
• Moles that are not symmetrical (one half doesn't match the other)
• Colors that are not uniform throughout
• Moles that are bigger than a pencil eraser
• Itchy or painful moles
• New moles
• Sores that bleed and do not heal
• Red patches or lumps
Read less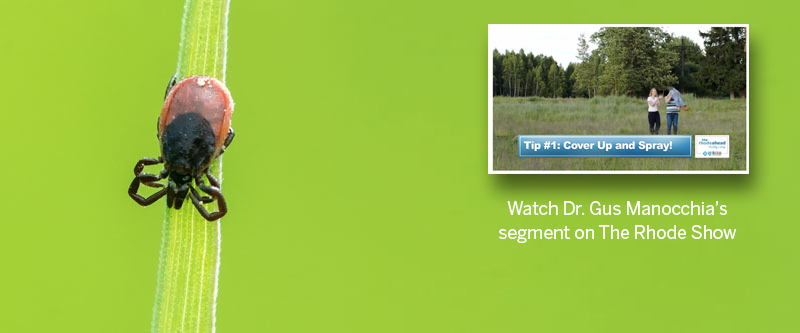 Tips for Preventing Lyme Disease from Dr. Gus
Gus Manocchia, M.D., BCBSRI Chief Medical Officer
Lyme disease affects around 300,000 Americans each year, according to the U.S. Centers for Disease Control and Prevention—that's 10 times more people than previously thought. In Rhode Island, we have one of the highest rates of Lyme disease in the United States. However, there's plenty you and your family can do to stay safe.
Know where to expect ticks.
Ticks live in moist and humid environments, particularly in or near wooded or grassy areas. That might include your backyard.
Use tick repellent on clothing.
Treat clothing and gear, such as boots, pants, socks, and tents, with products containing 0.5% permethrin. It'll last through several washings.
Use insect repellent on skin.
Look for one containing 20% to 30% DEET. Always follow the product instructions and don't let children use it themselves. When putting repellent on your kids, avoid their hands, eyes, and mouth. Don't use repellent on babies. Be sure to wear closed shoes, a hat, and long pants so as little of your skin is exposed as possible.
Check for ticks on your (and your children's) clothes and body.
Use a mirror so you can see all parts of your body, like your ears, scalp, and belly button. Don't forget to check your clothes, shoes, and even pets.
Shower within two hours after being outdoors.
This lowers your risk of getting Lyme disease and may help wash off unattached ticks.
What if you do find a tick? Pluck it out...but carefully! Use pointed tweezers to gently pull the tick up and out. Call your doctor if you think the tick has been attached for at more than 24 hours or if you notice symptoms of Lyme Disease, such as fever, headaches, muscle aches, or a distinctive "bull's eye" rash.
I hope those tips are helpful. Have a happy and healthy summer.
What about mosquitoes?
The species of mosquito that carries Zika virus is not known to be in Rhode Island. However, it's still important to protect yourself from mosquitoes, which can carry West Nile Virus and other serious diseases.
What works
Repellents containing DEET
Repellents containing Picaridin (also known as KBR 3023, Bayrepel, and icaridin)
Oil of lemon eucalyptus
IR 3535
What doesn't work
Backyard bug zappers
Wristbands with chemical repellents
Nutritional supplements or vitamins
Ultrasonic and electronic devices
Read less
---