Rhode Ahead: Healthy Living
BCBSRI recently started a new series with The Rhode Show on Channel 12 called Healthy Living. Watch Melissa Cummings, BCBSRI Executive Vice President and Chief Customer Officer, and Dr. Gus Manocchia, BCBSRI Executive Vice President and Chief Medical Officer, kick off the series. 

Tune in often to discover tips on sun safety, fitness, eating well, and much more. On this page, you'll find clips from the show and more information about each topic. 
| | |
| --- | --- |
| | Buying health insurance on your own is different than having it through an employer. Melissa Cummings, BCBSRI Chief Customer Officer, offers tips for choosing a plan during open enrollment, which is from November 1 to December 31. She also explains how to get help in the way that's most convenient for you—online, over the phone, or in-person at Your Blue Store locations in East Providence, Lincoln, and Warwick. Watch the segment. |
| | |
| --- | --- |
| | Are you buying a Medicare plan for yourself or helping a loved one find a plan? You have between now and December 7 to make your decision, and knowing what to look for can make your choice easier. Watch Melissa Cummings, BCBSRI Chief Customer Officer, talk about how to find a plan that covers your needs—and keeps you active and healthy. |
| | |
| --- | --- |
| | On September 21, more than 600 BCBSRI employees volunteered at nonprofits across the state as part of our seventh annual day of service. Watch Melissa Cummings, BCBSRI Chief Customer Officer, and Carolyn Belisle, BCBSRI Managing Director of Community Relations, talk about the event and why service is at the heart of our organization. |
| | |
| --- | --- |
| | Have you driven by a Your Blue StoreSM location in East Providence, Lincoln, or Warwick and wondered what you can do there? You can get your questions answered, take free fitness classes, talk with a nurse, and have health screenings. Find out more in this Rhode Show segment with BCBSRI Chief Customer Officer Melissa Cummings. |
| | |
| --- | --- |
| | Learn how you can take small steps to improve your health—and how BCBSRI can help! BCBSRI Chief Customer Officer Melissa Cummings talks about our well-being app and the free fitness classes offered at Your Blue StoreSM locations. Watch her Rhode Show segment. |
Tips for Healthier Holiday Eating
Gus Manocchia, M.D., BCBSRI Chief Medical Officer
During the holidays, many of us gather with family and friends and enjoy some of our favorite foods. You can have a wonderful time while still avoiding the one to two pounds that Americans gain, on average, during the holidays. While this is less than many people would expect, research shows we often don't lose that weight, so it adds up over the years. To stay healthy during the holidays, try the recipes in our Lighten Up Your Holidays cookbook and follow the tips below.
Don't skip meals. 
Be sure to eat foods that have lots of fiber, such as fruits, vegetables, and whole grains. These foods will help you stay full but are also lower in calories.
Use smaller plates.
Smaller plates can help with proper portion sizes. It's a good idea to fill your plate with healthy foods such as vegetables and salad before going to the main dishes and desserts. Before you go back for more food, wait 10 to 15 minutes to make sure that you're actually hungry. 
Let yourself indulge a little. 
You want to eat healthy, but that doesn't mean denying yourself some of your holiday favorites. Just eat them in moderation. Take a small piece of cake or a few chips and really savor every bite. Research shows that the first few bites of a food taste the best, so a small treat may be the best way to go.
Try not to drink your calories. 
It's easy to forget that drinks can add a lot of empty calories to your total for the day. Start off with a calorie-free, non-alcoholic drink.
Put less focus on food. 
Although food is usually available in abundance at holiday parties, it doesn't need to be the focus of your time. Relax with your family and friends by catching up, playing games, and even going for a post-meal walk.
Need help with your health?
If you're a BCBSRI member who would like help with meal planning, losing weight, or managing a health condition, a BCBSRI Care Coordinator can help. Your dedicated Care Coordinator is a health professional who will work with you and your doctor to create a care plan and help you on the path to a healthier life. You can take advantage of our Care Coordination Program at no additional cost through your BCBSRI health plan.*
You can get in touch with a Care Coordinator by:
*Care Coordination is not available for Plan 65 members.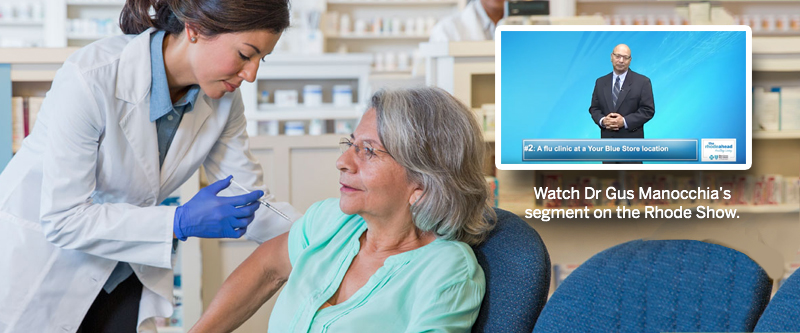 Tips for Preventing the Flu from Dr. Gus
Gus Manocchia, M.D., BCBSRI Chief Medical Officer
How can you tell the difference between a cold and the flu? While the symptoms are similar—fever, body aches, tiredness, and cough—you usually get much sicker with the flu. More than 200,000 Americans end up in the hospital each year as a result of the flu. A flu shot, which is recommended for everyone six months of age and older, can help protect you, your family, and people around you. Find a location to get vaccinated.
These simple tips explain how you can prevent the flu and what to do if you get the flu.
How to prevent the flu
Get vaccinated every year.
Everyone who is six months of age and older should get the flu vaccine as soon as it is available. As a BCBSRI member, you can get vaccinated at no cost at your doctor's office or a participating pharmacy. Find a location.
Wash your hands the right way.
A study by Michigan State University found that only 5 percent of people washed their hands for 15 seconds or more after using the bathroom. That means 95 percent of people didn't wash long enough to kill the germs that spread the flu, colds, and other diseases—if they washed at all! It's best to scrub your hands with soap for 15 to 20 seconds, rinse, then dry your hands with a clean towel. When soap and water aren't available, use alcohol-based disposable hand wipes or gel sanitizers.
Protect your immune system.
Take care of your overall health by eating nutritious foods, exercising regularly, sleeping at least seven hours each night, and managing stress.
Know how long people are contagious.
People can infect others for up to a day before their symptoms start and five to seven days after they become sick. Children can be contagious for longer than seven days.
What to do if you get the flu
Call your doctor if you're at high risk for complications.
Antiviral drugs can be used for people at high risk for flu complications, including children younger than 5, adults older than 65, pregnant women, and people with chronic conditions such as diabetes or asthma. These drugs can mean the difference between having a mild case of the flu and having a more serious case. Call your doctor early on, because antivirals should be given within 48 hours of getting the flu.
Sneeze and cough into your elbow or sleeve (or use a tissue).
This helps keep the flu virus off your hands. People with flu can spread it up to six feet away by sneezing, coughing, or even talking. These airborne germs can land in the mouths or noses of people who are nearby or possibly be inhaled into the lungs. A person can also get the flu by touching a surface or object that has the flu virus on it and then touching their own mouth or nose.
Drink lots of fluids.
Since the flu often results in a fever and sometimes a sore throat, becoming dehydrated is a serious risk of the flu. This is particularly true for young children.
Stay home until symptoms are gone for 24 hours.
Stay home for at least 24 hours after your fever is gone without the use of fever-reducing medication. This is required by many schools and workplaces. You should also stay out of public places unless it's absolutely necessary (for example, going to the doctor or pharmacy). If you have a cold or the flu, avoid visiting others who may be more at risk for complications, such as the elderly.
When to seek emergency medical care
These warning signs indicate that you (or someone you're caring for) need emergency care.
In children
Fast breathing or trouble breathing
Bluish skin color
Not drinking enough fluids (in young children)
Not waking up or not interacting
Being so irritable that the child does not want to be held
In adults
Difficulty breathing or shortness of breath
Pain or pressure in the chest or abdomen
Confusion

Tips for Preventing Lyme Disease from Dr. Gus
Gus Manocchia, M.D., BCBSRI Chief Medical Officer
Lyme disease affects around 300,000 Americans each year, according to the U.S. Centers for Disease Control and Prevention—that's 10 times more people than previously thought. In Rhode Island, we have one of the highest rates of Lyme disease in the United States. However, there's plenty you and your family can do to stay safe.
Know where to expect ticks.
Ticks live in moist and humid environments, particularly in or near wooded or grassy areas. That might include your backyard.
Use tick repellent on clothing.
Treat clothing and gear, such as boots, pants, socks, and tents, with products containing 0.5% permethrin. It'll last through several washings.
Use insect repellent on skin.
Look for one containing 20% to 30% DEET. Always follow the product instructions and don't let children use it themselves. When putting repellent on your kids, avoid their hands, eyes, and mouth. Don't use repellent on babies. Be sure to wear closed shoes, a hat, and long pants so as little of your skin is exposed as possible.
Check for ticks on your (and your children's) clothes and body.
Use a mirror so you can see all parts of your body, like your ears, scalp, and belly button. Don't forget to check your clothes, shoes, and even pets.
Shower within two hours after being outdoors.
This lowers your risk of getting Lyme disease and may help wash off unattached ticks.
What if you do find a tick? Pluck it out...but carefully! Use pointed tweezers to gently pull the tick up and out. Call your doctor if you think the tick has been attached for at more than 24 hours or if you notice symptoms of Lyme Disease, such as fever, headaches, muscle aches, or a distinctive "bull's eye" rash.
I hope those tips are helpful. Have a happy and healthy summer.
What about mosquitoes?
The species of mosquito that carries Zika virus is not known to be in Rhode Island. However, it's still important to protect yourself from mosquitoes, which can carry West Nile Virus and other serious diseases.
What works
Repellents containing DEET
Repellents containing Picaridin (also known as KBR 3023, Bayrepel, and icaridin)
Oil of lemon eucalyptus
IR 3535
What doesn't work
Backyard bug zappers
Wristbands with chemical repellents
Nutritional supplements or vitamins
Ultrasonic and electronic devices

7 Tips for Sun Safety from Dr. Gus
Gus Manocchia, M.D., BCBSRI Chief Medical Officer
It's finally summer, and that means we're at the beach, around the pool, in the backyard, or just taking a relaxing stroll on a lovely day. But with all that fun comes the potential for issues with your skin from sun exposure. I've had two skin cancers on my scalp over the last 5 years, so I understand the importance of sun safety—and want to help you and your family stay healthy.
According to the American Cancer Society, ultraviolet (UV) rays from the sun are the number one cause of skin cancer. These seven tips will help you protect your skin this summer.
1.  Choose broad spectrum sunscreen.
There are two types of harmful ultraviolet (UV) rays from the sun—UVA and UVB—and broad spectrum provides protection against both. Be sure to keep your sunscreen out of direct sunlight (which can make it less effective) and check to make sure it isn't expired. You should throw away sunscreens after one to two years.
2. Apply sunscreen every two hours.
The sun's UV rays can damage your skin in as little as 15 minutes, so apply sunscreen when you're outside. Use about an ounce of broad-spectrum sunscreen with an SPF of 30 or higher—that's the equivalent of a shot glass—and reapply at least every 2 hours. Don't forget to reapply it again after swimming or sweating. Sunscreen works best when it's combined with the other tips I've offered below. 
3.  Stay in the shade.
Make sure to find shade between 10 a.m. and 4 p.m., when UV rays are strongest. Or, if you have to be in the sun, it's a good idea to use an umbrella. And remember, if you're in or on the water, sun reflects off the water and this can do damage as well. 
4.  Cover up.
Wearing long-sleeved shirts and long pants and skirts can provide protection from UV rays. Clothes made from tightly woven fabric offer the best protection. I know that isn't always practical, but it's a good idea to at least wear a T-shirt or a beach cover-up. Keep in mind that a typical T-shirt has an SPF rating lower than 15, so use other types of protection as well. 
    
5.  Wear a hat, but not any hat.
Choose a wide-brimmed hat that protects as much of your skin as possible. For the most protection, wear a hat with a brim all the way around that shades your face, ears, and the back of your neck. Straw hats are popular for the beach, but they let sunlight through. You'll be better protected from UV rays by a tightly woven fabric, such as canvas. If you wear a baseball cap, be sure to put sunscreen on your ears and the back of your neck.
6.  Make sunglasses a big part of your summer.
Sunglasses protect your eyes from UV rays and reduce the risk of cataracts. They also protect the tender skin around your eyes from sun exposure. Sunglasses that block 99% of both UVA and UVB rays offer the best protection. Most sunglasses meet this standard, but it's a good idea to double check. Wrap-around sunglasses work best because they block UV rays from sneaking in from the side. 
7.  Don't be fooled.
According to the Skin Cancer Foundation, UV rays can pass through clouds, rain, and fog, so be sun safe even on those not-so-great summer days.
Skin cancer: what to watch for
As I mentioned, I've had skin cancer, which is the most common form of cancer in the United States. If you have any of the following skin cancer signs, please talk with your doctor.
•    Irregular borders on moles (ragged, notched, or blurred edges)
•    Moles that are not symmetrical (one half doesn't match the other)
•    Colors that are not uniform throughout
•    Moles that are bigger than a pencil eraser
•    Itchy or painful moles
•    New moles
•    Sores that bleed and do not heal
•    Red patches or lumps 
---