Your PCP Helps Keep You Healthy
In football, the quarterback calls the plays and coordinates their team's offense on the field. Much like in sports, a team approach to your health can help bring the best results. 
Your primary care provider (PCP) is like your quarterback for your health. They coordinate all of your care with specialists, labs, hospitals, and other providers you might need. This makes it much easier for you to use the healthcare system—and to focus on getting or staying healthy. 
What your PCP does for you
If you have complex medical needs—such as an ongoing medical condition like diabetes or high blood pressure—having a PCP is particularly important. They understand the total picture of your health, and can help you understand it, too. Your PCP is a doctor or nurse practitioner who:
Gives you regular checkups, an important part of staying healthy (Call to schedule yours if you haven't already.)
Provides basic care for illnesses and ongoing conditions 
Recommends small changes you can make to be healthier
Makes referrals to specialists when needed, as explained below
Be sure to call your PCP first when you're not feeling well, unless it is a medical emergency (in which case you should always dial 911). Even if the office isn't open, a provider is on call 24/7 for questions.
Why referrals are good for your health
To make sure that your care is coordinated among your healthcare team, your PCP will help you make important healthcare decisions. For all BlueCHiP for Medicare plans, your PCP will coordinate referrals when you see a specialist, have a test, and receive some other services. However, many important covered services still don't require a referral, including behavioral health/substance use disorder services, emergency and urgent care, and retail health clinics such as CVS Pharmacy® MinuteClinic™.
Need a PCP?
If your PCP is listed with BCBSRI, your member ID card will include your PCP's name. If you have a doctor you see regularly who isn't listed on your card, please call the Medicare Concierge Team and tell them.
If you don't have a regular PCP, you can find BlueCHiP for Medicare network providers using our Find a Doctor tool. Enter your plan and location, then type "Primary Care Provider" or the provider's name into the search field. You'll see results like the example below.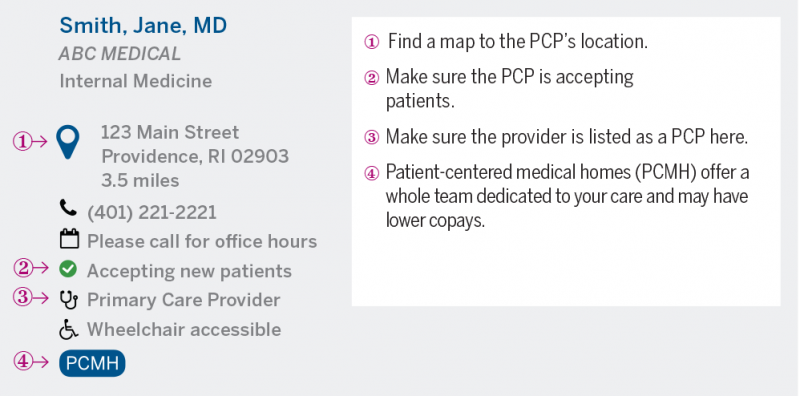 Have questions or want assistance? 
You can also find a PCP by calling our Medicare Concierge Team at (401) 277-2958 or 1-800-267-0439 (TTY: 711). Our hours are Monday through Friday, 8:00 a.m. to 8:00 p.m., Saturday and Sunday, from 8:00 a.m. to noon (open seven days a week, 8:00 a.m. to 8:00 p.m., from October 1 - February 14). You can use our automated answering system outside of these hours.