Eat Well to Live Well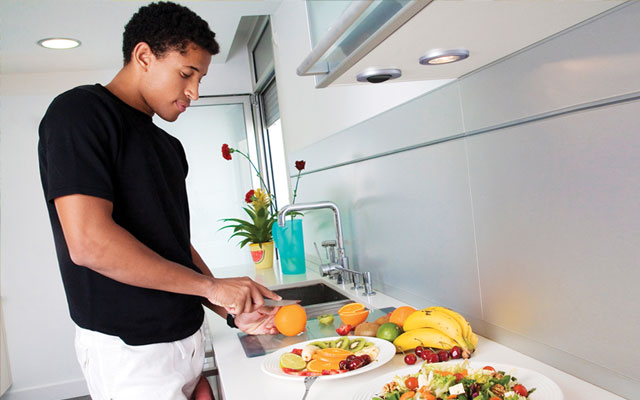 In Rhode Island, one in three of us has high blood sugar levels, which increases our chance of developing type 2 diabetes, heart disease, and stroke.
If you're overweight, not active, or have a family history of those health conditions, it's a good idea to ask your doctor if you have high blood sugar. But don't wait until your next visit to change how you eat. These tips can help everyone eat and feel better.
Find healthy foods that you like.
There are so many great foods to eat: fruits, veggies, whole-grain breads and crackers, oatmeal, Greek yogurt and cheese, nuts, seeds, and more. "Anyone can follow an eating plan for two weeks," says Emily DelConte, a registered dietitian and nutrition director at Evolution Nutrition in Rhode Island. "But you want to make changes that you can follow years from now."
Don't worry about being gourmet.
"Try healthy, convenient meals that you can make in 10 or 15 minutes, like stir-frys, tacos, salad, or veggie omelets," says Emily. "Use easy ingredients like frozen veggies and microwavable brown rice." This helps you to eat out less. Restaurant food is often loaded with extra salt, sugar, and fat.
Balance your plate.
"If you're having Cheerios and orange juice for breakfast, that's all carbs," says Emily. To feel full and get the nutrition you need balance is key. To feel more satisfied, include proteins (meat, tofu, cheese) and fats (nuts, seeds, avocado) in what you eat.
Eat like a kid.
To help you control portion sizes, try eating on small plates with child-size forks and spoons. This makes less food look like more. Eating slowly also helps you control how much you eat.
Choose water instead of soda, sweetened iced tea, and other sugary drinks.
Drink a sugary beverage every day? You have a 46% increased risk of having high blood sugar levels than someone who doesn't, according to a 2016 study. And here's another reason to drink water: Having a large glass 10 minutes before eating can help you feel less hungry.
Visit a dietitian at no cost
If your doctor recommends nutritional counseling from a registered dietitian, nutritionist, or certified diabetes outpatient educator—for high blood sugar, weight loss, or other health issues—those visits are covered in full by your BCBSRI health plan. (No copays, deductibles, or other costs apply.)
If you think those services would help improve your health, talk with your doctor at your next visit or call the office. Your doctor may even have a health professional right in the office who can help.
How a dietitian can help
Emily DelConte explains how a dietitian can help you make lasting changes to how you eat.
How do people start working with a dietitian?
I'd say about 80% are referred by their doctor. But a big misconception is that people need to see their doctors before they can visit a dietitian. You can actually call us and we'll contact your doctor for you, to get whatever documentation is needed. At the practice I work for, Evolution Nutrition in Rhode Island., some of our offices are right in physician's offices and others are standalone. When needed, we do work closely with your doctor on your care.
What happens during the first visit to your office?
The first visit is about an hour to an hour and fifteen minutes. We create eating plans that are based on who you are. We're not selling anything or recommending a rigid diet plan. It's about getting to know who you are, who you live with, who does the cooking in your family, how much you sleep, what your stress levels are, and, of course, what you eat. All of those things play a huge role in making changes for the long-term. We talk about what your goals are, the importance of eating well, then set three to four very specific things to work on before the next appointment, whether that's eating fast food two days a week instead of four or having one glass of wine a night instead of three.
Who should see a dietitian?
Anyone who wants to make a change in how they eat. On average, people make 200 decisions a day about food and talking to a professional about these decisions only makes sense.  A lot of people tell me they can't believe they waited so long to come.