3 Tips for Emotional Well-Being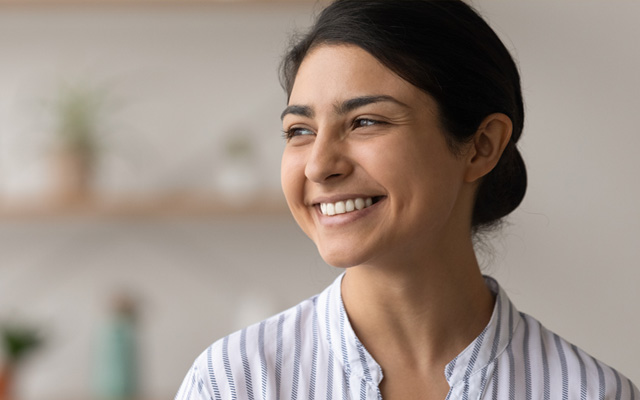 During the pandemic, many of us struggled with the challenges of being away from loved ones and our normal routines. As we figure out what a new normal looks like, paying attention to our emotional health is important. These three tips can help.
1. Taking care of your body can help lift your mood.
Most of us are familiar with the mind-body connection, and making sure that you're eating well, exercising, getting enough sleep, and drinking plenty of water can help improve your overall well-being.
Meditation can also be really helpful, as it gives you a short break from your daily routine to calm yourself and focus. If you've never meditated before, you may want to start with a free class at Your Blue Store (for BCBSRI members)1 or with a meditation app or video. On the Your Blue Store Studio Facebook group, there are lots of free meditation classes available that you can watch at your convenience. The BCBSRI wellness app, powered by Virgin Pulse, also offers meditation videos. If it's available with your plan, visit Virgin Pulse2 through myBCBSRI.com or by downloading the Virgin Pulse app from the App Store or Google Play.3 
2. Make time for activities that make you feel happy and connected.
When the pandemic started, many of us felt the overwhelming need to be more productive than usual because we were at home more. In addition to working longer hours, we also tackled home improvement projects we'd been putting off. Living during a pandemic was stressful! 
Instead of focusing on projects, enjoy your favorite TV shows. Read a book to relax. And most important, stay connected with the people you care about—however you're most comfortable doing that. It might be a phone call, a video chat, or in person. For many of us, this last year has underscored what we already knew—spending time with our loved ones brings meaning and joy to our lives. 
3. Know when to seek help.
While stress is normal, especially during a pandemic, pay attention to whether your stress is getting in the way of your typical routine. If you're losing interest in the things you like to do, you feel hopeless, or you don't feel motivated to take care of yourself, it may be time to seek help. 
It's a good idea to start with your primary care provider. They may recommend speaking with a counselor and/or recommend a medication to help. Your providers may offer visits by phone or video if you prefer. 
BCBSRI also offers Drs. Online, which lets you schedule appointments with therapists and psychiatrists. You can download the BCBSRI Drs. Online4 app on the App Store or Google Play2 or visit drs-online.com. Please note that Doctors Online is not available with all plans.
In addition, BCBSRI also has case managers who can connect you with mental health resources. Find out more about your comprehensive mental health benefits as a BCBSRI member. 
If you are experiencing thoughts of suicide, a mental health or substance use crisis, or any other kind of emotional distress, call or text 988 for quick access to counseling help.
1Not all exercises are suitable for everyone and any exercise program could result in injury. Always consult with your physician before beginning an exercise program, especially if you have an existing health condition. 
2Virgin Pulse® is an independent wellness company, contracted by BCBSRI to provide wellness services. Virgin Pulse is available to BCBSRI subscribers (the primary person on the BCBSRI health plan) and their enrolled spouses. Not all employers offer Virgin Pulse through their plan. Standard mobile phone carrier and data usage charges apply. The downloading and use of the Virgin Pulse mobile app is subject to the terms and conditions of the app and the online stores from which it is downloaded.
3Apple and the Apple logo are trademarks of Apple Inc., registered in the U.S. and other countries. App Store is a service mark of Apple Inc. Google Play is a trademark of Google Inc. 
4In the case of an emergency, you should always call 911. Doctors Online is not intended to replace these services and should not be used in those circumstances. Doctors Online is a telemedicine service provided by American Well®, an independent company that administers Doctors Online on behalf of BCBSRI.
Your Blue Store locations follow state and federal guidelines during emergencies. Please visit bcbsri.com/yourbluestore for the latest information.