6 Ways Your BCBSRI Benefits Can Help During COVID-19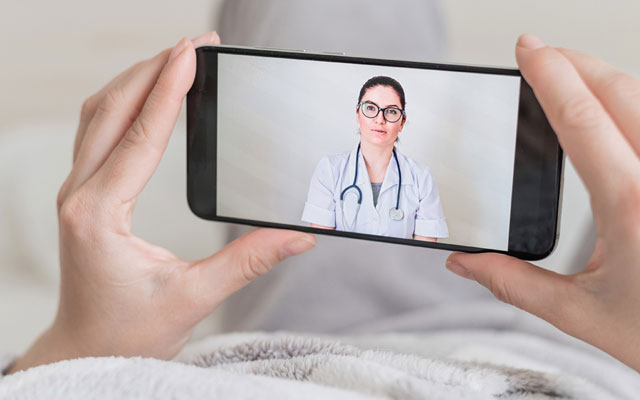 You have a lot to deal with right now, and we're here to help. The benefits and programs available through your BCBSRI health plan can help protect your health and make your life easier. 
1. 100% coverage for COVID-19 testing and treatment makes care more accessible
We have made temporary changes to our policies to help you access the care you need—with no added worries about cost. You will not pay any copays, deductibles, or other cost-sharing for medically necessary provider visits (in person or via telemedicine), urgent care visits, or emergency room visits that result in COVID-19 testing.
You also will not pay any copays, deductibles, or other cost-sharing for treatment for COVID-19—including emergency services, inpatient services, and provider visits (in person and via telemedicine) when received in-network. This 100% coverage is in effect at least until the end of the Rhode Island state of emergency (for services received on or before that date). It may be extended after that time.1
You do not need preauthorization or a referral for these services.
How to get started: Simply use your benefits as you usually do. You can find information about testing sites on the Rhode Island Department of Health website.
2. Telemedicine coverage lets you visit with a provider right from your home
For certain health issues, you can receive care from your provider over the phone or by video. Ask your provider if that is an option for any treatment that you need. You have coverage for clinically appropriate video and phone visits from certain in-network providers. This telemedicine coverage is a standard part of your BCBSRI health plan and is in addition to the video visits available through BCBSRI Doctors Online2 if that service is available with your plan. BCBSRI Doctors Online can be used for common, non-emergency health issues 24/7 as well as for scheduled therapy sessions and psychiatry visits.
Telehealth is especially important if you are experiencing symptoms of COVID-19. You should not go to a doctor's office, urgent care center, or emergency room without contacting your doctor first (except in a medical emergency). Your doctor can direct you to the best place for testing or treatment. Doctor's offices in Rhode Island are open for in-person appointments and are following specific procedures to keep patients safe.
How to get started: To ask about a phone or video visit with your doctor, simply call the office. To use Doctors Online, it's a good idea to sign up before you need it. If you don't have a PCP or your PCP is unavailable, you can use Doctors Online (if it's part of your health plan) by downloading the BCBSRI Drs. Online app on the App Store or Google Play3 or visit drs-online.com. Be sure to have your BCBSRI member ID handy. If you're not sure if Doctors Online is available with your plan, check with your employer or call BCBSRI Customer Service at the number on the back of your ID card.
3. Comprehensive care helps you protect your emotional well-being
If you need care for a mental health or substance use disorder issue, BCBSRI covers a comprehensive list of services and benefits. These resources can help provide—or connect you with—treatment and support, from provider visits to specialized programs to hospital treatment.
How to get started: Call the BCBSRI Behavioral Health Line at 1-800-274-2958 for help finding a provider as well as in non-emergency situations. Learn about your mental health and substance use disorder benefits.  
4. Free classes from Your Blue Store Studio help you stay healthy 
You can take free online fitness classes through the Your Blue Store Studio Facebook group every weekday at 10:00 a.m. and 2:00 p.m. If you can't make the live classes, you can view the videos anytime on the BCBSRI Facebook page. We offer 10 different classes each week, and all fitness levels are welcome.4 
How to get started: Visit the Your Blue Store Studio Facebook group for the online classes.
5. No-cost BCBSRI wellness app helps you stay active and relieve stress
With the BCBSRI wellness program, powered by Virgin Pulse5, you can participate in healthy challenges, find tips for coping with stress, and track your activity level, weight, sleep habits, and moods. The app also offers yoga and mindfulness programs.
How to get started: If your plan includes the BCBSRI wellness program, sign up at join.VirginPulse.com or download the Virgin Pulse app from the App Store or Google Play.3 Choose Blue Cross & Blue Shield of Rhode Island as your sponsor, then connect your Fitbit® or other wearable fitness tracker.
6. No-cost Blue365 discount program helps you save on health and fitness
Blue365®6 offers members-only savings on health and fitness gear, gyms, meal services, and much more. There's no charge to register, and you can sign up for email alerts tailored to your preferences, so you'll never miss out on a great deal. 
How to get started: Check out the savings at Blue365. 
Helpful resources
These local resources can provide assistance if you or someone you know needs help. 
Help with food, housing, and other essential services
If you need assistance with finding food, paying your bills, or other essential services, check out 211, a vital service from the United Way. Professionals are available to help you find the support you need.
BHLink
Rhode Island adults experiencing mental health and substance use crises can receive the appropriate services they need by calling (401) 414-LINK (5465). Visit bhlink.org.
Kids' Link RI™
This 24/7 hotline for kids in emotional crisis—1-855-543-5465—is offered in collaboration with Gateway Healthcare, Lifespan, Hasbro Children's Hospital, and Bradley Hospital. Find help.
1Not all employers have chosen to cover this benefit without cost share. Please check with your employer to see if this temporary benefit is available under your plan.
2In the case of an emergency, you should always call 911. Doctors Online is not intended to replace these services and should not be used in those circumstances. Doctors Online is a telemedicine service provided by American Well®, an independent company that administers Doctors Online on behalf of BCBSRI. 
3Apple and the Apple logo are trademarks of Apple Inc., registered in the U.S. and other countries. App Store is a service mark of Apple Inc. Google Play is a trademark of Google Inc.
4Not all exercises are suitable for everyone and any exercise program could result in injury. Always consult with your physician before beginning an exercise program, especially if you have an existing health condition.
5Virgin Pulse® is an independent wellness company, contracted by Blue Cross & Blue Shield of Rhode Island (BCBSRI) to provide wellness services.
6©2000‐2021 Blue Cross and Blue Shield Association ‐ All Rights Reserved. The Blue365 program is made available by BCBSRI in conjunction with the Blue Cross and Blue Shield Association. The Blue Cross and Blue Shield Association is an association of independent, locally operated Blue Cross and Blue Shield Plans.
Your Blue Store locations follow state and federal guidelines during emergencies. Please visit bcbsri.com/yourbluestore for the latest information.