Out of the Dark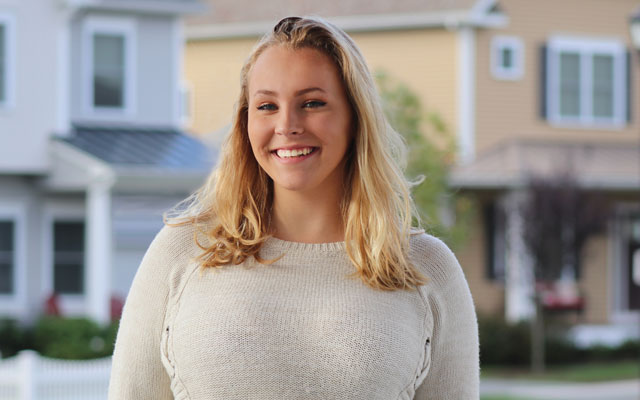 A few years ago, Caleigh Pearce's parents, Michele and Andy, knew that their daughter needed help. "She was withdrawn and not her usual bubbly self that she'd been growing up," said Andy.
Caleigh said that she was engaging in self-harm at the time. "I was stuck in a dark place and really couldn't get out."
Then her parents found the Mindful Teen program at Bradley Hospital.
Mindful Teen is an 18 to 24-week program for teens ages 13 to 18 who are struggling with mental health issues. "They're often displaying suicidal thoughts or behaviors or non-suicidal self-injurious behavior, the most common form being cutting," said Dr. Kerri Kim, director of the program. Mindful Teen, which is one of the programs available to BCBSRI members like Caleigh, provides support and skills intended to help teens more effectively regulate their emotions.
"We see them for several hours per week, but their real life is happening outside of here [Bradley Hospital]," said Dr. Kim, so phone coaching is available 24/7. Another feature of Mindful Teen is that it involves the whole family, who all learn support and coping skills. "I think it's helped us to look at the situation from the other's point of view, which was very helpful," said Michele.
Caleigh said the program helped her realize that she wasn't the only one dealing with these issues. "That was really nice to know," she said. Caleigh has graduated from the program and is doing well. She has a strong support system in her family and friends.
How to find support
Mindful Teen is one example of the types of programs and services available to BCBSRI members. If you're looking for help for a mental health issue (such as depression, anxiety, or bipolar disorder) or substance use disorder (alcohol/drug use), here's what you should know.
You don't need a referral, but it's a good idea to ask for help. 
With your BCBSRI plan, you don't need a referral to counseling or medication services received outside of a hospital. However, your primary care provider knows you best and can help you find the right provider or program. You can also call our BCBSRI help line at 1-800-274-2958 for assistance with finding a provider for mental health or substance use disorder issues. (In an emergency, always call 911.)
You pay the same copay for an office visit as you do at your primary care provider.
An office visit for a psychiatrist, psychologist, or other mental health or substance use disorder professional typically costs the same as a primary care visit.
You can take advantage of special programs that offer more support than traditional office visits. 
Many people need more than a traditional office visit, but they don't need full-time hospital care. Intensive programs like Mindful Teen might meet three or four days a week for several hours a day. Some offer one affordable copay for access to a wide range of services. Programs are offered for members with serious mental health issues and substance use disorders, including ones specifically for opioid disorders. To find out more, call our help line at 1-800-274-2958 or visit bcbsri.com.
Staying local can be important. 
You may have seen ads for substance use disorder treatment facilities in places like California and Florida. But there are many local high-quality treatment centers where you can get the care you need and have the support of family and friends nearby. Getting help from a local network provider can help lower what you pay out of pocket.
 
Information in this article is provided for informational purposes only and does not constitute medical or other professional advice. BCBSRI does not recommend or endorse specific services, providers, procedures, advice, or other information provided in this article.