Banana Oatmeal Peanut Butter Cookies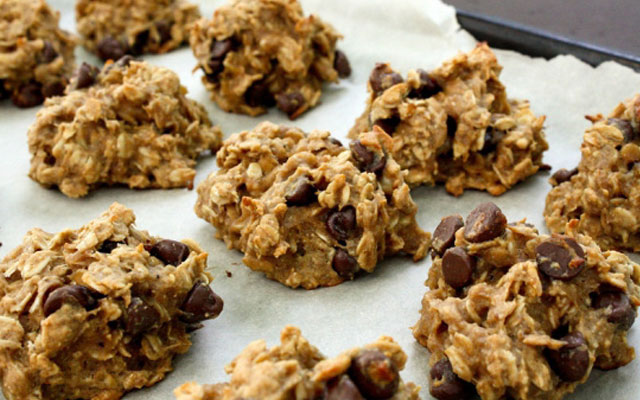 Ingredients
3 ripe bananas, mashed
1 tablespoon vanilla
¾ cup natural chunky peanut butter
3 tablespoons maple syrup
2 cups old fashioned oats
½ cup whole-wheat flour
1 teaspoon baking powder
¼ teaspoon salt (optional)
½ cup non-dairy chocolate chips or raisins
*To make gluten free, eliminate whole-wheat flour.
Directions
Preheat oven to 350 degrees and prepare a cookie sheet with parchment paper
Mix bananas, vanilla, peanut butter, and maple syrup into a creamy consistency in a large bowl.
In another bowl, combine oats, flour, baking powder, and salt.
Add the dry ingredients to the wet ingredients and stir until they are well combined. The batter should be slightly sticky. Fold in the chocolate chips or raisins.
Place rounded, heaping tablespoon-sized balls of the batter onto an ungreased baking sheet. Bake for 15-18 minutes. Gobble these up while they are still warm.
Source
Engine 2 Diet by Rip Esselstyn