Easy Meals Under $10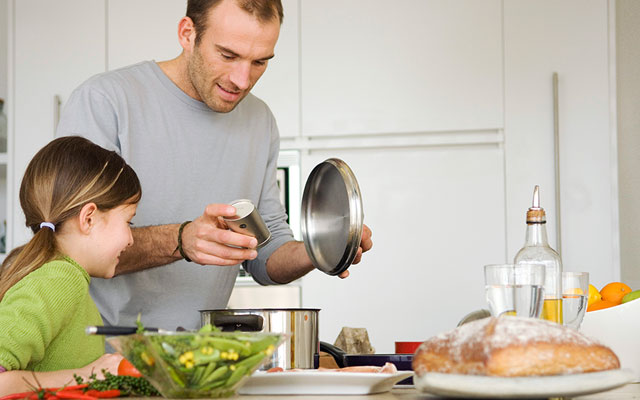 Making delicious, good-for-you meals doesn't mean breaking the bank.
Chef Michael Makuch believes that focusing on dishes made with fresh fruits and vegetables is the best way to make lower cost, nutritious, and great tasting meals. "When it comes to nutrition, plant-based eating gives consumers the most bang for their buck," he says. A culinary nutrition associate professor at Johnson & Wales University, Chef Makuch has created Families Cook: Nutritious Recipes with a Side of Food Safety, a cookbook that encourages families to cook together and dine together. He shared three recipes that will help keep your whole family healthy and happy:
Tabbouleh Salad
Cost for 5 servings: $9.18
Bulgur wheat is made from crushed wheat kernels. It has a chewy texture that is delicious in meat and vegetable dishes.
1 cup bulgur
1½ cups water (boiling hot)
½ teaspoon kosher salt or to taste
¼ teaspoon pepper or to taste
½ cup fresh lemon juice (2–3 lemons, wash before squeezing)
¼ cup olive oil 
2 garlic cloves (minced)
2 small tomatoes (washed and diced)
4 scallion stalks (washed and chopped)
1 cup flat leaf parsley (washed and minced)
10 mint leaves (washed and minced)
½ cup canned chickpeas (drained and rinsed)
1 cup cucumber (washed, peeled, seeded, and diced)
In a bowl, combine bulgur, boiling water, salt and pepper. Cover and let stand until liquid is fully absorbed and bulgur is tender. Combine with all of the remaining ingredients. Chill and serve.
Calories: 279, Total Carbohydrate: 38 grams, Fiber: 8 grams, Protein: 6 grams, Total Fat: 12 grams, Sodium: 280 milligrams
Grilled Cheese with Yellow Squash
Cost for 4 servings: $5.50
Chef Michael says, "The grilled cheese is one that I make often in the elementary schools I visit as a way of introducing squash to the kids in something that is familiar to them."
2 yellow squashes (washed and shredded)
½ teaspoon kosher salt or to taste
½ teaspoon pepper or to taste
½ cup reduced-fat cheddar cheese, shredded
½ teaspoon minced fresh garlic
½ teaspoon olive oil
8 slices of whole-grain bread
Shred squash using the side of a box grater with the largest holes. Squeeze out excess moisture from shredded squash with hands. Season squash with ¼ teaspoon salt and ¼ teaspoon pepper. Mix squash with cheese. Set aside.
Crush garlic into oil and season with ¼ teaspoon salt. Lightly brush garlic oil on bread. Place two slices of bread in a hot skillet or grill pan, and then evenly spread cheese mixture on each slice. Place the remaining two slices of bread on top. Flip with a spatula when golden brown. When golden brown on the other side, remove from heat and serve.
Calories: 248, Total Carbohydrate: 28 grams, Fiber: 5 grams, Protein: 15 grams, Total Fat: 9.6 grams, Sodium: 814 milligrams
Mango Chayote Slaw
Cost for 7 servings: $5.25
Chayote squash, also called vegetable pear, mirliton and christophene, is really a member of the gourd family. The skin is pale green and smooth with lengthwise ridges. The interior is white with one large seed in the middle. It is available in most grocery stores with a peak season from December to March. It can be substituted for summer or zucchini squash in most recipes.
2 mangos, cut into short, thin strips
2 chayote or zucchini squash, cut into short, thin strips
½ cup cilantro (washed and minced)
1 fresh lime (washed and juiced)
¼ teaspoon kosher salt or to taste
Honey as needed (optional — may be used if mango is not ripe)
Combine all ingredients, chill, and serve.
Calories: 51, Total Carbohydrate: 18 grams, Fiber: 2 grams, Protein: Less than 1 gram, Total Fat: Less than 1 gram, Sodium: 72 milligrams
Why Cooking and Eating Together Matters
"It's important that parents model healthy eating for their kids—to come together and share in the cooking experience," says Chef Makuch. He adds that everybody's so busy that they often rely on more convenience foods that are higher in sugars, fats and salts to fuel up. "Going back to the basics is huge. Exposing kids to simple, home-cooked food means they're more willing to try new things."