Easy Tips From a Local Chef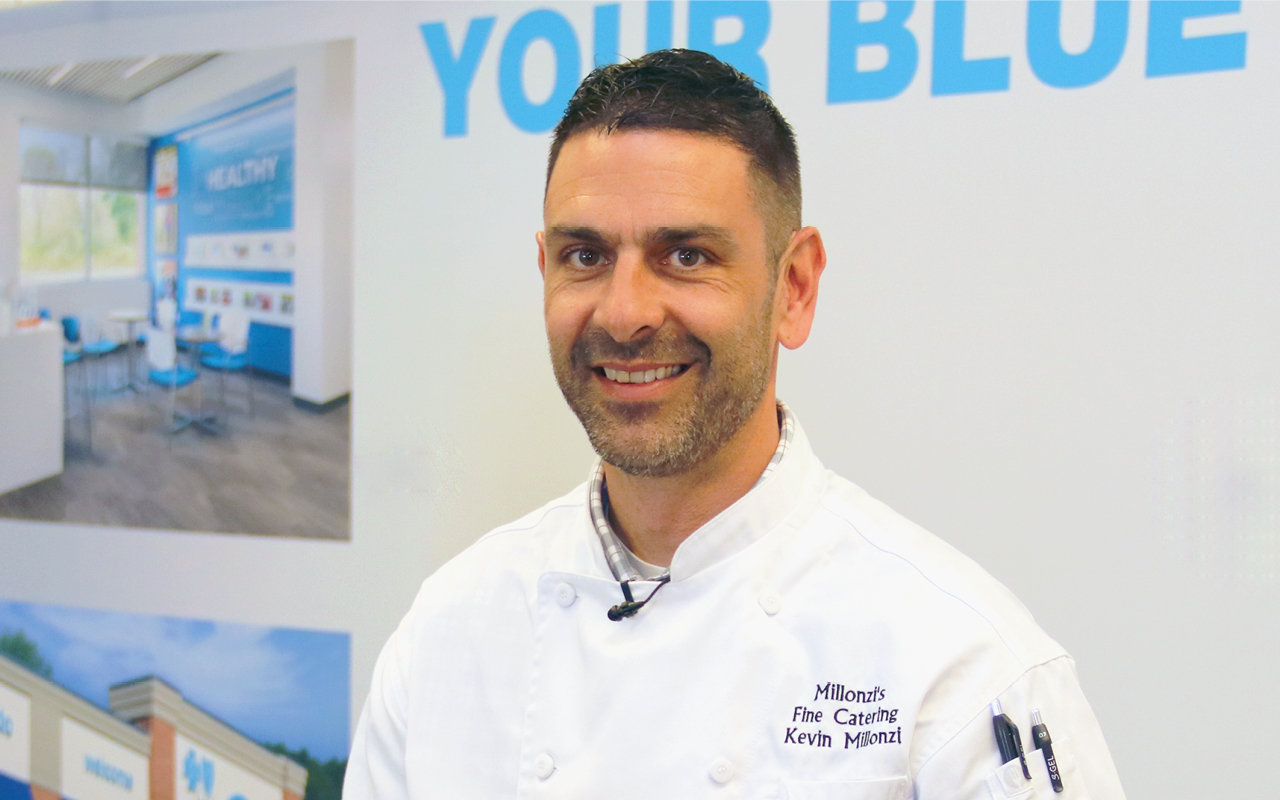 To chef Kevin Millonzi, food is everything.
"It's what I've done my whole life," he said. "Food is about nutrition, about family, about bringing people together."
Kevin is on the board of Meals on Wheels and does free cooking demonstrations at Your Blue StoreSM and out in the community. (Sign up for one at bcbsri.com/events.) To help you make healthy, low-cost meals, Kevin shared cooking tips and recipes.
Making cooking simple
To help you make healthy, low-cost meals, Kevin shared these tips.
Choose fresh and local whenever you can.
"Fresh food just tastes better," said Kevin, "so you don't need to add much to it when cooking. And Rhode Island has a great supply of local produce, eggs, and other foods."
Schedule a prep day.
"Choose a day or two during the week to prepare foods. You could roast vegetables so they're ready to be reheated," Kevin said. "Or prepare a bigger meal like a turkey meatloaf, then freeze some in individual containers."
Use spices instead of salt.
Kevin suggests leaving out salt altogether or using a spice blend that includes peppercorns, lemon rind, cardamom, oregano, and parsley. "If you're going to use salt, it's better to add it after the food is done," said Kevin.
Have healthy snacks on hand.
"I often recommend hummus as a snack, which you can eat with bell peppers, celery sticks, or even roasted red peppers. It's easy to make yourself too. You'll need tahini, which you can usually find near the peanut butter in the grocery store."
Lighten up with swaps.
To make recipes healthier, Kevin suggests these swaps:
Unsweetened applesauce instead of butter or margarine
Toasted oats instead of store-bought breadcrumbs
Sweet potatoes instead of regular potatoes
Egg whites instead of eggs
Recipes to try at home
Kevin often makes these recipes during his cooking demonstrations at Your Blue Store. 
Stuffed Sweet Bell Pepper
4 servings
2 sweet bell peppers, halved (red or yellow)
16 oz. chopped chicken, fully cooked
2 cups cooked brown rice or quinoa 
1 cup diced white onion
1 tsp. minced garlic
1 cup diced celery
½ cup diced carrots
1 Tbsp. canola oil
1 egg
½ cup oats
4 each, 1 oz. pieces of mozzarella cheese
1 jar marinara
1 seasoning packet, custom no-salt, all-natural blend 
In a skillet, sauté all vegetables with canola oil.
Thoroughly combine egg, rice, breadcrumbs, sautéed vegetables, chicken, marinara, and seasoning. 
Use mixture to stuff pepper halves.
Bake stuffed peppers at 350°F for 25 minutes.
Remove peppers from oven and top with mozzarella, then continue to bake another 5 minutes or until cheese is melted. Serve hot. 
Recipe is used with permission of Millonzi Fine Catering.
Berry Trifle
4 servings
½ pint strawberries 
½ pint blackberries
½ pint blueberries 
3 cups plain, no-fat yogurt 
1 tsp. honey 
1 cup low-fat granola 
4 sprigs of mint (optional)
Combine yogurt, berries and honey in blender or food processor and puree until smooth. Adjust sweetness with additional honey if desired. 
Take an 8 oz. cup and layer yogurt and granola, alternating to fill up glass. Garnish with fresh berries and or mint sprig. 
Repeat layering process until all four cups are filled. 
Serve immediately or place in refrigerator (or freezer, if in a freezer-safe cup).
Note: You can swap the low-fat granola for 4 oz. of diabetic cookies. To create cookie crumbs for layering, grind the cookies in a food processor or blender.
Nutrition facts: 177 calories, 1 g fat, 7 mg cholesterol, 128 mg sodium, 35 g carbohydrates, 20 g sugar (5 g added sugar), 5 g fiber, 9 g protein
Recipe is used with permission of Millonzi Fine Catering.
 
Turkey Meatloaf
8 servings
2 lbs. lean ground turkey
2 eggs
½ cup onion, chopped
1 stalk celery, chopped
¾ cup rolled oats
2 Tbsp. fresh parsley, minced
2 cloves garlic, minced
½ tsp. salt
¼ tsp. pepper
¼ tsp. dry mustard
1 Tbsp. Worcestershire sauce
¼ cup ketchup
Preheat oven to 350 degrees. 
In a large mixing bowl, combine all ingredients and mix well. 
 Form into a loaf and place in the middle of a 9" x 13" baking dish. Top with ketchup and bake for 50-60 minutes until a meat thermometer inserted into the center reaches 165 degrees.
Let sit for a few minutes, slice, and serve hot.
Nutrition facts: 221 calories, 9.8 g total fat (3 g saturated fat), 122 mg cholesterol, 356 mg sodium, 8.7 g total carbohydrate, 25 g protein