Habichuelas Rosadas a la Caribeña (Caribbean Pink Beans)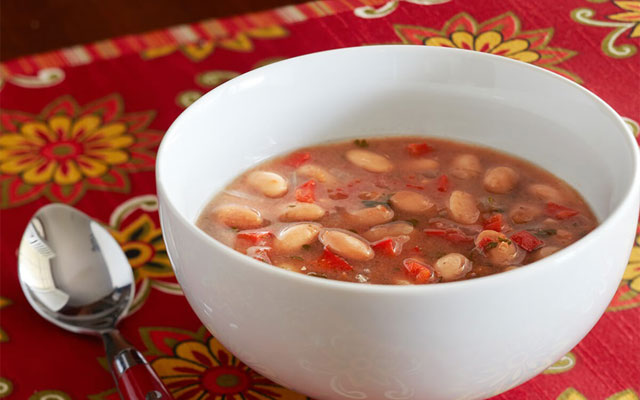 Ingredients
1 lb. pink, pinto, or light red kidney beans, sorted for stones and shriveled beans, rinsed, and drained
8 cups water
1 28 oz. can no-salt-added crushed tomatoes, drained
1 medium red bell pepper, finely chopped
1 small white onion, finely chopped
2 Tbsp. chopped fresh cilantro
2 Tbsp. chopped fresh parsley OR 2 tsp. dried parsley, crumbled
3 tsp. jarred minced garlic OR 6 medium garlic cloves, minced
Directions
Soak the beans overnight using the package directions. Drain well in a colander.
Transfer the beans to a large stockpot. Pour in the water. Bring to a boil over medium heat. Cook for 1 hour and 30 minutes, or until the beans are soft, stirring occasionally.
Stir in the remaining ingredients. Cook for 20 minutes, still over medium heat, stirring occasionally.
Nutritional info
117 calories, .5 g total fat (0 g saturated fat), 0 mg cholesterol, 12 mg sodium, 22 g total carbohydrate, 7 g protein
---
Notes
Tip: Dried beans are one of the most inexpensive proteins you can buy. They are only pennies per pound, so be sure to stock up on them. They'll last for a year in an airtight container.
Cooking Tip: Serve as a side dish or over 4 cups cooked brown rice to make it an entrée that serves 8.
---
Source
©Copyright 2020 American Heart Association, Inc., a 501(c)(3) not-for-profit. All rights reserved. Unauthorized use prohibited.