Make the Most of Oats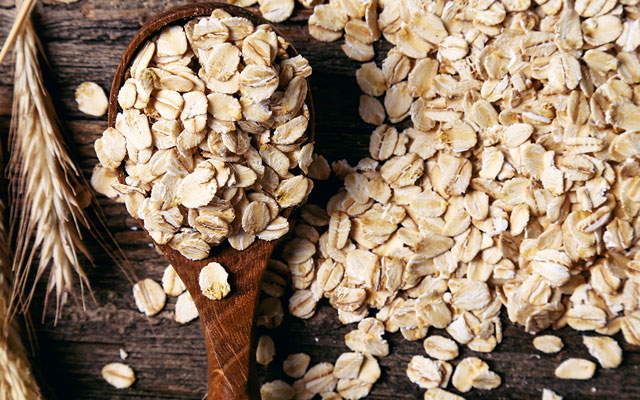 Good for your body and soul, oats are one of nature's superfoods. This heart-healthy grain is rich in soluble fiber that's long been shown to lower LDL (bad) cholesterol, and it's an excellent source of essential vitamins and minerals. Traditionally eaten as a hot breakfast cereal, oats are more than just a great way to start your day. Try these recipes to see how easy it is to use oats in new ways.
Baked Fish with Rolled Oat Crust
4 servings
1-1½ lbs. white fish fillet such as cod, haddock, pollock
2 Tbsp. extra-virgin olive oil
2 Tbsp. onion, minced
1 Tbsp. dried parsley
1 tsp. dried basil
1 cup rolled oats, lightly ground
1 Tbsp. flax meal
1 Tbsp. whole wheat flour
1 tsp. salt
¼ tsp. pepper
Preheat oven to 350 degrees. Grease bottom of 9" x 13" baking dish. Wash and pat dry fish fillets, salt and pepper both sides, and set in baking dish. In a medium skillet, heat oil and sauté onion 2-3 minutes. Add parsley, basil, and oats and toss for 1-2 more minutes. Turn off heat and stir in all other ingredients. Put mixture on top of fish. Bake for 20 minutes or until fish is cooked through and topping is lightly browned.
Turkey Meatloaf
8 servings
2 lbs. lean ground turkey
2 eggs
½ cup onion, chopped
1 stalk celery, chopped
¾ cup rolled oats
2 Tbsp. fresh parsley, minced
2 cloves garlic, minced
½ tsp. salt
¼ tsp. pepper
¼ tsp. dry mustard
1 Tbsp. Worcestershire sauce
¼ cup ketchup
Preheat oven to 350 degrees. In a large mixing bowl, combine all ingredients and mix well. Form into a loaf and place in the middle of a 9" x 13" baking dish. Top with ketchup and bake for 50-60 minutes until a meat thermometer inserted into the center reaches 165 degrees. Let sit for a few minutes, slice, and serve hot.
Strawberry Oatmeal Smoothie
2 servings
½ cup rolled oats
1 cup yogurt
1 cup strawberries (fresh or frozen)
1 Tbsp. honey
1 cup milk or juice
Soak oats in the yogurt for one hour or overnight in the refrigerator. Place all ingredients in a blender or food processor and blend until smooth.
Oatmeal Yogurt Muffins
12 servings
1 cup rolled oats
1 cup plain yogurt
1 egg
2 Tbsp. vegetable oil
¼ cup applesauce
⅔ cup brown sugar
1 cup white whole wheat flour
1 tsp. salt
½ tsp. baking soda
1 tsp. baking powder
1 cup cranberries or blueberries (fresh or frozen)
Preheat oven to 400 degrees. Grease muffin tin or insert paper muffin cups. Soak oats in the yogurt, set aside. Using an electric mixer, beat the egg, oil, applesauce, and brown sugar. In a medium bowl, sift flour, salt, baking soda, and baking powder. Add berries and toss. Fold oats and yogurt and dry ingredients with berries into the wet mixture. Spoon into muffin pan and bake for 20 minutes. Cool on a wire rack.