Spinach Salad with Cranberry Vinaigrette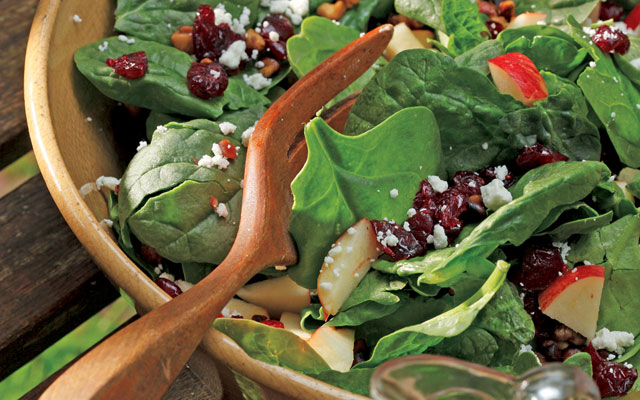 Ingredients
Vinaigrette
1 cup cranberry juice
½ cup cranberries, fresh or frozen
1 tsp. onion, minced
1 Tbsp. extra-virgin olive oil
1 Tbsp. red wine vinegar
1 tsp. honey
Salt and pepper to taste
Salad
10-oz. bag baby spinach
1 apple, cored and diced
½ cup walnuts, toasted and cooled
½ cup dried cranberries
2 Tbsp. crumbled feta, goat, or blue cheese (optional)
Directions
In a small saucepan, combine cranberry juice, cranberries, and onion. Cook over medium heat for about 5 minutes, until berries pop. Let cool slightly.
Place in blender with remaining vinaigrette ingredients and blend until smooth. Chill in the refrigerator until ready to serve.
Place salad ingredients in a serving bowl and serve or toss with the vinaigrette.
Nutritional info
233 calories, 14.3 g total fat (1.9 g saturated fat), 3 mg cholesterol, 125 mg sodium, 23 g total carbohydrate, 6.9 g protein
---