Sweet Potato and Chard Latkes with Cranberry-apple Chutney and Greek Yogurt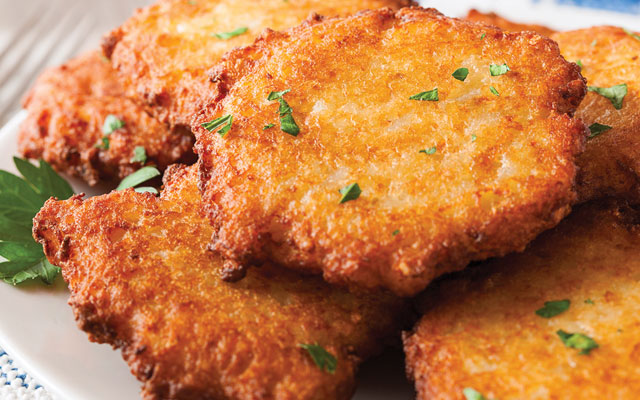 Ingredients
Latkes
3 Tbsp. unsalted butter
1 large sweet potato, peeled and grated (about 2 cups)
¾ cup breadcrumbs (preferably panko)
1 Tbsp. chopped fresh sage
½ tsp. ground cinnamon
½ tsp. freshly grated nutmeg
¼ tsp. cayenne
¾ pound fresh rainbow chard, boiled, squeezed dry, and chopped
1 cup cooked yellow-eyed peas or cannellini beans, mashed
1 egg, lightly beaten
2 Tbsp. oil
1 cup Greek yogurt or low-fat sour cream for serving
Salt and pepper to taste
Chutney
¾ cup water
1 cup sugar
¼ tsp. ground cinnamon
1 Tbsp. grated fresh ginger
¼ tsp. salt
12 ounces of cranberries (3 cups)
2 medium-size firm, ripe apples (peeled, cored, and finely chopped)
Directions
For latkes
Heat 3 tablespoons butter in a 10-inch skillet over medium heat. Add sweet potato and cook, stirring until lightly browned, for about 10 minutes.
Add ½ cup breadcrumbs, sage, cinnamon, nutmeg, and cayenne. Cook, stirring, for 1 minute.
Transfer to a large bowl and stir in chard, mashed peas, and egg. Season with salt and pepper.
Using your hands, shape vegetable mixture into eight patties, about ½ inch thick. Coat patties with remaining breadcrumbs.
Heat 2 tablespoons oil in a 12-inch skillet over medium-high heat. Add patties in batches (trying not to overcrowd pan) and cook, turning once, until browned on both sides, about 6 minutes. Transfer to a serving platter.
For chutney
Bring water, sugar, cinnamon, ginger, and salt to boil in medium nonreactive saucepan (for example, stainless steel) over high heat, stirring occasionally to dissolve sugar.
Stir in cranberries and apples, then return to boil. Reduce heat to medium and simmer until saucy, slightly thickened, and about two-thirds of berries have popped open, about 5 minutes.
Transfer to nonreactive bowl, cool to room temperature, and serve. Let sit at room temperature 30 minutes before serving. 
To serve: Top each latke with a dollop of Greek yogurt and cranberry-apple chutney. Chutney can be covered and refrigerated up to 7 days.
Notes
The cooking time in this recipe is intended for fresh berries. If you're using frozen cranberries, don't defrost them before use. Pick through them, and add about 2 minutes to the simmering time.
---
Source
Chef Andy Pyle of Providence's XO Café