Tofu and Green Bean Stir-Fry with Peanut Sauce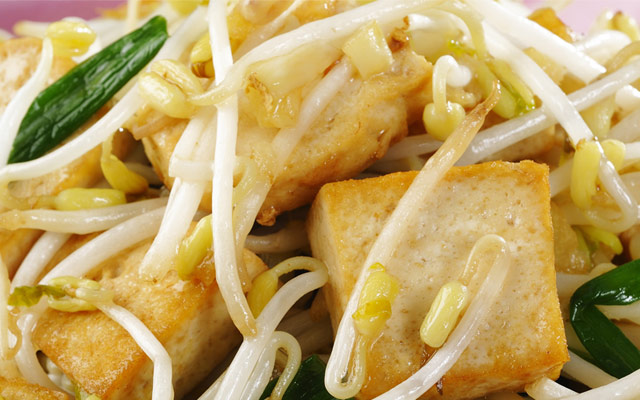 Ingredients
Sauce
2 cloves garlic, minced
2 tsp. fresh ginger, grated
2 Tbsp. low-sodium soy sauce
1 Tbsp. honey
3 Tbsp. peanut butter
2 tsp. lemon or lime juice
1 small tomato, diced
½ cup water
Pinch red pepper flakes (optional)
Stir-Fry
2 Tbsp. canola oil
8 oz. extra firm tofu, diced small
1 small onion, sliced
¾ lb. fresh green beans
½ lb. bean sprouts
½ red bell pepper, sliced thin
3 Tbsp. fresh basil, chopped (optional)
Directions
In a blender, combine all sauce ingredients and blend until smooth. Set aside. In wok or large skillet, heat oil and stir-fry tofu cubes over high heat until golden brown, 5-7 minutes. Remove tofu and set aside. Add onion and green beans to wok (add more oil if needed) and stir-fry until tender crisp, about 5 minutes. Add half of the bean sprouts and red bell pepper and stir-fry 2 more minutes. Add tofu and sauce and stir-fry until heated, 1-2 minutes. Top with remaining bean sprouts and fresh basil.
To complete the meal: Serve with steamed brown rice.
Nutritional info
256 calories, 16 g total fat (2.4 g saturated fat), 0 mg cholesterol, 139 mg sodium, 21.4 g total carbohydrate, 12.7 g protein
---
Notes
This recipe packs a quadruple punch of nutrition with four members of the legume family: green beans, tofu, peanuts, and bean sprouts.
---