Winter Crisp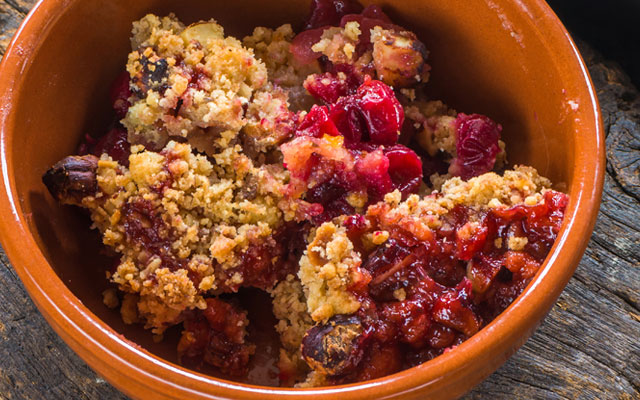 Ingredients
Filling
1/2 cup sugar
3 Tbsp. all-purpose flour
1 tsp. lemon peel, grated
3/4 tsp. lemon juice
5 cups apples, unpeeled, sliced
1 cup cranberries
Topping
2/3 cup rolled oats
1/3 cup brown sugar, packed
1/4 cup whole-wheat flour
2 tsp. ground cinnamon
1 Tbsp. butter, melted
Directions
Heat oven to 375 degrees. Prepare filling by combining sugar, flour, and lemon peel in medium bowl. Mix well. Add lemon juice, apples, and cranberries. Stir to mix. Spoon into 6-cup baking dish.
Prepare topping by combining oats, brown sugar, flour, and cinnamon in small bowl. Add melted butter. Stir to mix. Sprinkle topping over filling. Bake in 375°F oven for approximately 40–50 minutes or until filling is bubbly and top is brown.
Serve warm or at room temperature.
Nutritional info
272 calories, 3 g total fat (1.3 g saturated fat), 5 mg cholesterol, 18 mg sodium, 62.6 g total carbohydrate, 2.4 g protein
---