Talk With a Therapist From Your Own Couch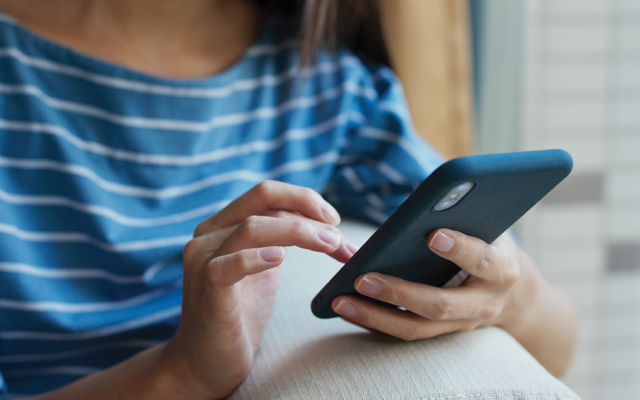 Psychologist Dr. Lindsay Henderson sees her patients for therapy sessions early in the morning, in the evening, and even on the weekend—from an office right in her home. And her patients are also in their own homes (or wherever works best for them).
It's all possible because Dr. Henderson video chats with her patients—a great service now available to many BCBSRI members. If BCBSRI Doctors Online is available with your health plan, you can talk with a licensed therapist or board-certified psychiatrist on your computer, tablet, or smartphone.
Care at your convenience
Video chat makes therapy available to more people who want help for depression, anxiety, stress, and other mental health issues. "My patients often tell me that they wouldn't be able to see a therapist without this technology," said Dr. Henderson. "It can be daunting to fit ongoing care into our already busy lives. I can see people on their lunch break or after they've put their kids to bed. And sometimes people just feel more comfortable accessing care from their own home."
If you're interested in working with a therapist or psychiatrist through Doctors Online, these tips can help.
You can get an appointment quickly.
"Through Doctors Online, you can see the providers who are licensed in your state and when they have available appointments," said Dr. Henderson. "People love this feature because they don't have to call different providers to find one who is accepting new patients." She said that you can usually get a therapy appointment within a few days, or even the same day, and a psychiatry appointment within a few weeks.
Once you establish a relationship, you can see the same provider on an ongoing basis.
Dr. Henderson said the process is very much like traditional, in-office therapy. "You can set up 45-minute therapy appointments weekly, twice a month, or whatever works best for you." Psychiatry appointments are 15 minutes and focus on medication management.
If you need care from both a therapist and a psychiatrist, they'll work together on your care.
Some people can benefit from a combination of therapy and medication. If you work with a therapist and a psychiatrist through Doctors Online, they'll collaborate on your treatment to make sure you're getting the care you need. "We really function like a large medical practice," said Dr. Henderson.
Online providers can treat almost anyone who would usually be seen at an in-person office visit.
Dr. Henderson said that the providers on Doctors Online are able to treat about 98% of the people who request care through the platform. "There are some people who are more safely treated in person, such as people who have moderate to severe substance use disorder."
It's simple to get started
Did you know Doctors Online also offers 24/7 care for minor illnesses and injuries? You and your family members on your plan can get help for common, non-emergency health issues such as colds, flu, and allergies.
To use Doctors Online for 24/7 care or to schedule a therapy/psychiatry appointment, follow these easy steps:
Download the BCBSRI Drs. Online app from the Apple App Store or Google Play* or visit drs-online.com. Have your BCBSRI member ID information handy.
Provide your contact information and set up your user name and password.
Search for a provider.
If you prefer, you can also call to schedule an appointment. For a therapy appointment, call 1-800-345-1419, and for a psychiatry appointment, call 1-877-410-5548.
 
*Apple and the Apple logo are trademarks of Apple Inc., registered in the U.S. and other countries. App Store is a service mark of Apple Inc. Google Play is a trademark of Google Inc. 
In the case of an emergency, you should always call 911. Doctors Online is not intended to replace these services and should not be used in those circumstances. Doctors Online is a telemedicine service provided by American Well®, an independent company that administers Doctors Online on behalf of BCBSRI.