How Ken Stays Fit for Less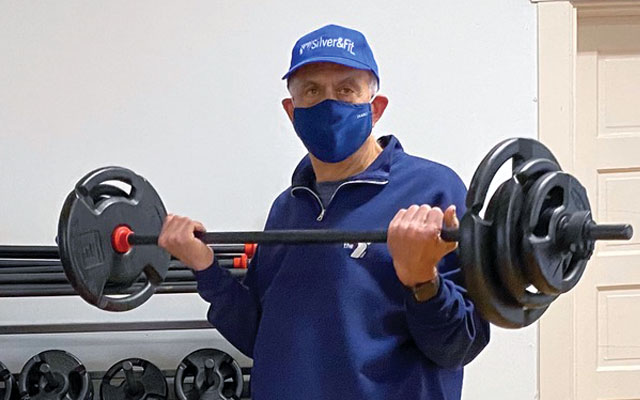 Most days you can find Ken Camilucci working out at the Woonsocket YMCA. But you may also see him at YMCAs from Lincoln to South County.
As a BCBSRI Medicare Advantage member, Ken can go to as many fitness centers in the national Silver&Fit® network as he wants for $0 per month. "Silver&Fit is fantastic and easy to use," he said.
Ken enjoys taking classes with Kristin Quinn, executive director of the Woonsocket YMCA (pictured above). "I like taking many different classes, from spin to Pilates. After I retired in 2016, I was introduced to yoga at Your Blue StoreSM and was hooked. And 'movement is medicine' as my yoga instructor said."
In 2015, Ken received treatment for atrial fibrillation (a rapid, irregular heartbeat), and daily exercise has kept his condition in check. "I feel like I can do anything," he said. Ken has continued taking classes during the pandemic since the YMCAs follow strict COVID-19 protocols. He also used his BCBSRI wellness reimbursement toward a home exercise bike.
"Blue Cross offers many benefits that really help promote wellness," said Ken. "Thank you for helping keep me fit."
3 Great Fitness Benefits 
1. Pay $0 at participating Silver&Fit gyms.*
The national network includes 16,500+ fitness centers as well as 45+ local fitness centers. Find a location at silverandfit.com.
2. Pay $0 for a home fitness kit.*
Your Silver&Fit benefit includes a home fitness kit, such as a wearable fitness tracker; exercise bands and dumbbells; and unique options for yoga, tai chi, and more. To request your kit, call 1-888-797-8059 (TTY/TDD: 711).
3. Use your wellness reimbursement.**
You can use this reimbursement for weight-loss programs, online fitness programs, equipment, and much more. Download the Wellness Reimbursement Form.
 
*The Silver&Fit program is provided by American Specialty Health Fitness, Inc., a subsidiary of American Specialty Health Incorporated (ASH). Silver&Fit is a trademark of ASH and used with permission herein. Participating facilities and fitness chains may vary by location and are subject to change.
**Available with BlueCHiP for Medicare Value (HMO-POS), BlueCHiP for Medicare Extra (HMO-POS), HealthMate for Medicare (PPO), and BlueRI for Duals (HMO D-SNP)