3 Tips (and 3 Resources) for Sticking with Exercise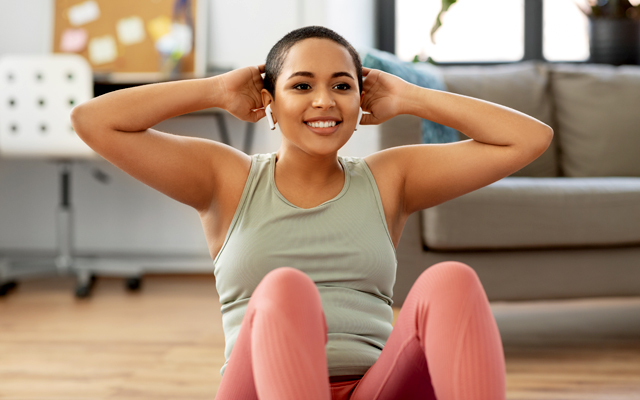 Many of us struggle to find time for fitness, but staying active can help improve your mood and your sleep as well as lower your risk for many health issues. 
These tips can help you find quick, fun activities that can be a regular part of your busy day. Plus, learn about BCBSRI resources for saving money on fitness.
1. Break up your exercise.
The U.S. Department of Health & Human Services recommends that adults get at least 2 and a half hours of moderate exercise a week, such as brisk walking, as well as strengthening activities twice a week, like lifting weights or doing push-ups. You might find that much easier to do a few minutes at a time. Take a break from working to take a short walk. Do squats while you're watching television. Wind down before bed with yoga. 
Many wearable fitness trackers can alert you if you haven't moved enough in an hour, which can be really helpful. 
Make it easier:
If you don't have a fitness tracker, you can get discounts as a BCBSRI member—as well as discounts on athletic shoes, fitness streaming services, fitness equipment, and more through our Blue365 program. You'll find deals from 45+ national retailers. Sign up at blue365deals.com/bcbsri.1 
2. Focus on how exercise can improve your well-being. 
Too often we think of exercise as a chore. The key is finding activities that you enjoy. So if you don't like running or using an elliptical machine, don't. Maybe dance-based fitness is right for you. Or playing basketball.
When you can, getting outside to walk or do another activity can be important for your mental health. 
Make it easier:
BCBSRI members can take free in-person fitness classes at Your Blue StoreSM locations in Cranston, East Providence, Lincoln, and Warwick. Sign up for a class at bcbsri.com/events. All fitness levels are welcome. You can also visit the BCBSRI Facebook page to find videos of the classes that you can do at home.2
3. Use the buddy system. 
If you have kids, being active together is good for everyone. You can do some hula hooping, have a dance party, or try a superhero workout video.
If you don't have a family member in your household to be active with, you can still get support from friends—either through an app that lets you do team challenges or just by deciding to do certain exercises each day and holding each other to it. 
Make it easier:
Create healthy challenges with BCBSRI's wellness app, powered by Virgin Pulse.3 You can also track your activity level, weight, sleep habits, and moods as well as participate in yoga and mindfulness programs. If your plan includes the BCBSRI wellness program, sign up at join.VirginPulse.com or download the Virgin Pulse app from the App Store or Google Play.4 Choose Blue Cross & Blue Shield of Rhode Island as your sponsor, then connect your Fitbit® or other wearable fitness tracker.
1© 2000‐2023 Blue Cross and Blue Shield Association (BCBSA) – All Rights Reserved. The Blue365 program is made available by BCBSRI in conjunction with the BCBSA. The BCBSA is an association of independent, locally operated Blue Cross and Blue Shield Plans. Blue365® offers access to savings on items that members may purchase directly from independent vendors, which are different from items that are covered under the policies with BCBSRI, its contracts with Medicare, or any other applicable federal healthcare program. The products and services described herein are neither offered nor guaranteed under BCBSRI's contract with the Medicare program. In addition, they are not subject to the Medicare appeals process. Any disputes regarding these products and services may be subject to BCBSRI's grievance process. BCBSA may receive payments from Blue365 vendors. Neither BCBSA nor BCBSRI recommends, endorses, warrants, or guarantees any specific vendor, product, or service available under or through the Blue365 Program.
2Not all exercises are suitable for everyone and any exercise program could result in injury. Always consult with your physician before beginning an exercise program, especially if you have an existing health condition.
3Virgin Pulse is available to BCBSRI subscribers (the primary person on the BCBSRI health plan) and their enrolled spouses. Not all employers offer Virgin Pulse through their plan. Standard mobile phone carrier and data usage charges apply. The downloading and use of the Virgin Pulse mobile app is subject to the terms and conditions of the app and the online stores from which it is downloaded.
4Apple and the Apple logo are trademarks of Apple Inc., registered in the U.S. and other countries. App Store is a service mark of Apple Inc. Google Play is a trademark of Google Inc. Virgin Pulse is an independent wellness company, contracted by BCBSRI to provide wellness services.