Cheesy Spinach Mushroom Ring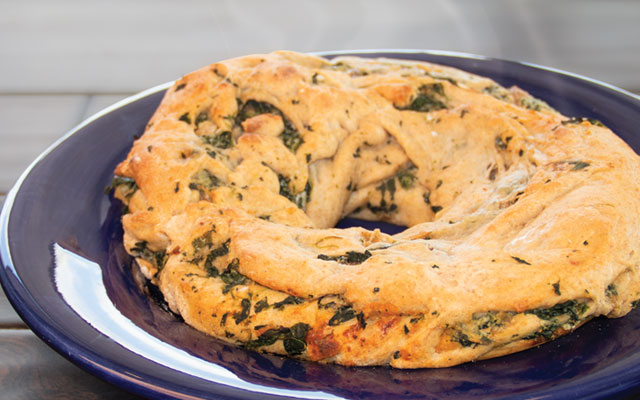 Ingredients
16 oz. prepared whole-wheat pizza dough
8 oz. ricotta cheese, part skim
½ cup mozzarella cheese
2 tsp. dried basil
1 tsp. dried oregano
1 Tbsp. olive oil
2 cloves of garlic, minced
1 onion, diced
8 oz. mushrooms, chopped
10 oz. spinach, fresh or frozen (thawed and drained)
Flour as needed
Directions
Heat oven to 400 degrees and take dough out of refrigerator. In a large bowl, mix together ricotta, mozzarella, basil, and oregano.
In a large skillet, cook garlic and onion in olive oil on medium heat until onions are translucent, then add mushrooms. Cook for 4-5 minutes, then add the spinach. Once the vegetables are softened, combine the cooked mixture with the cheese and spices. Stir well.
Separate the dough into two pieces. Flatten each piece, with a rolling pin or your hands, into two long even strips. Use a little flour if needed.
Spread the cheese and vegetable mixture over one half of the dough, then press the remaining dough over it, pinching the sides together. Shape into a zero on a cookie sheet. Bake for 13-18 minutes or until browned.
Nutritional info
220 calories, 8 g total fat (2 g saturated fat), 19 mg cholesterol, 275 mg sodium, 30 g carbohydrate, 10 g protein
---