Southwestern Chicken Soup with Pumpkin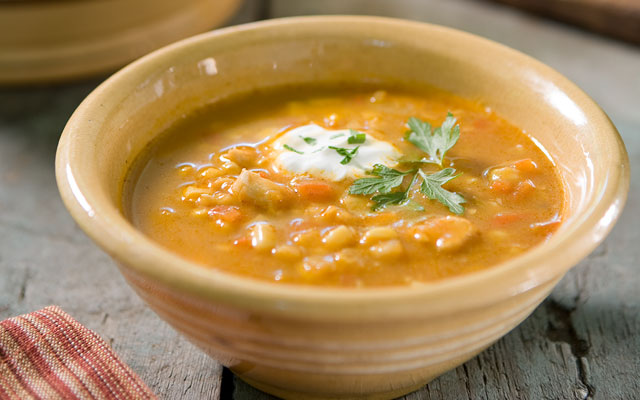 Ingredients
1 Tbsp. olive oil
1 medium onion, chopped
2 garlic cloves, minced
1 medium red bell pepper, chopped
2 cups corn kernels
2 cups pureed pumpkin (or 15-oz. can)
2 tsp. chili powder
1 tsp. ground cumin
½ tsp. salt (or to taste)
Black pepper to taste
4 cups low-sodium chicken broth
2 cups chopped cooked chicken
¼ cup minced fresh cilantro
½ cup reduced-fat sour cream
Directions
Heat oil in a large soup pot or Dutch oven over medium heat.
Add onion, garlic, and bell pepper.
Cook until vegetables soften, about 5 minutes.
Add corn, pumpkin, chili powder, cumin, salt, and pepper; cook another 5 minutes, stirring frequently to prevent the mixture from sticking.
Stir in the broth, reduce heat to medium-low, and simmer for about 20 minutes, or until the vegetables are fully cooked.
Add the chicken and cilantro, and simmer another 5 minutes.
Serve with a dollop of sour cream.
 
Nutritional info
273 calories, 9 g total fat (2.6 g saturated fat), 59 mg cholesterol, 388 mg sodium, 25 g total carbohydrate, 24 g protein
---
Notes
Make this dish ahead; it's even better reheated!
---