Eggplant, Cheese & Tomato Bake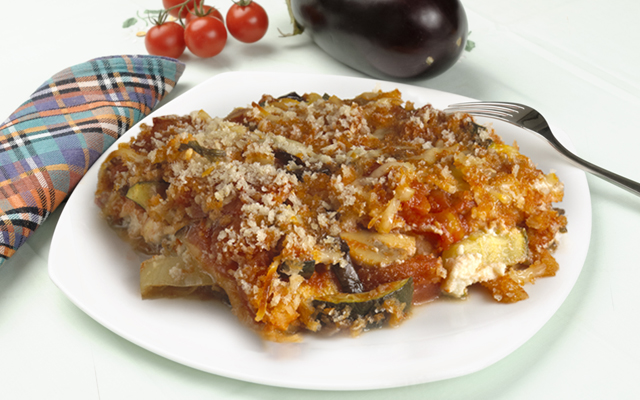 Ingredients
1 large sliced eggplant (about 17-20 slices)
1 medium thinly sliced onion (about 2 cups), cut into bite-size pieces
2 zucchini (about 2 cups), cut into bite-size pieces
Non-stick cooking spray
2 tsp. extra virgin olive oil or canola oil
3 cups mushrooms (sliced)
3 cloves minced garlic OR 3 tsp. fresh, minced garlic
2 Tbsp. water
1/4 tsp. black pepper
29 oz. canned, no salt added, diced tomatoes
8 oz. canned, no salt added tomato sauce
3 Tbsp. fresh, chopped basil OR 1 Tbsp. dried basil
3/4 cup part-skim, low-fat ricotta cheese
1 cup low-moisture, part-skim mozzarella cheese (shredded)
1 cup whole-wheat bread crumbs OR 1 cup panko (Japanese breadcrumbs)
Directions
Preheat oven to 375 degrees. Arrange eggplant, onions, and zucchini on a baking sheet, sprayed with cooking spray. Lightly spray top of vegetables with cooking spray as well. Cover with aluminum foil. Bake for 10 minutes covered and 10 minutes uncovered.
In a small saucepan, heat extra virgin olive oil over medium heat, sauté mushrooms and garlic with water and pepper, until mushrooms begin to soften, about 6 minutes. Add diced tomatoes, tomato sauce, and basil, reduce heat and simmer for 10 minutes.
Spread half of the tomato-mushroom mixture on bottom of a 9"x13" baking dish coated with cooking spray. Then layer half of the eggplant, zucchini, and onion. Layer all of ricotta, and sprinkle a layer of half the mozzarella.
Repeat layers with another half of the tomato-mushroom mixture and the remaining eggplant, zucchini, and onion. Add the remaining tomato mixture, evenly sprinkle the remaining mozzarella and top with breadcrumbs. Bake for 30-45 minutes or until most of the liquid has disappeared and cheese begins to brown. Let cool for 10 minutes before cutting and serving.
Nutritional info
161 calories per serving, 2.5 g saturated fat per serving, 138 mg sodium per serving
---
Source
Copyright © 2018 American Heart Association, Healthy For Good™, heart.org/healthyforgood