The Great Pumpkin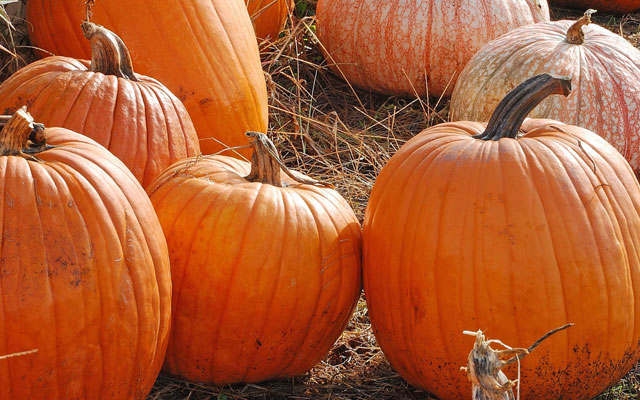 Think beyond pie—this squash is delicious in soups, pastas, pancakes, and more.
Pumpkins are not only tasty, but very nutritious. One cup of cooked, mashed pumpkin has 3 grams of dietary fiber and is loaded with vitamin A. It also contains significant amounts of potassium, calcium, and vitamin C. Try these recipes for new ways to add pumpkin to your fall menu.
Southwestern Chicken Soup with Pumpkin
1 Tbsp. olive oil
1 medium onion, chopped
2 garlic cloves, minced
1 medium red bell pepper, chopped
2 cups corn kernels
2 cups pureed pumpkin (or 1 15-oz can)
2 tsp. chili powder
1 tsp. ground cumin
½ tsp. salt (or to taste)
Black pepper to taste
4 cups chicken broth
2 cups chopped cooked chicken
¼ cup minced fresh cilantro
½ cup reduced-fat sour cream
Heat oil in a large soup pot or Dutch oven over medium heat. Add onion, garlic, and bell pepper. Cook until vegetables soften, about 5 minutes. Add corn, pumpkin, and spices (through black pepper); cook another 5 minutes, stirring frequently to prevent the mixture from sticking. Stir in the broth, reduce heat to medium-low, and simmer for about 20 minutes, or until the vegetables are fully cooked. Add the chicken and cilantro, and simmer another 5 minutes. Serve with a dollop of sour cream.
Note: Make this dish ahead; it's even better reheated!
Pumpkin Ravioli
1 cup pureed pumpkin
¾ cup part-skim ricotta cheese
1/3 cup grated Parmesan cheese
2 tsp. brown sugar
½ tsp. salt
Pinch of nutmeg
1 package wonton wrappers
½ cup chicken broth
¼ cup reduced-fat sour cream
Chopped parsley
In a medium bowl, stir together the pumpkin, cheese, sugar, salt, and nutmeg. Have a platter or baking sheet and a small bowl of water ready. Lay one wonton wrapper out on a surface. Dip your finger or a pastry brush in the water and moisten the edge of one half of the wonton wrapper. Place about one rounded teaspoon in the middle of the wrapper, slightly closer to the moistened side. Fold the dry side over so that the edges meet and the wonton wrapper is folded in half. Pinch the edges to seal. Repeat with the remaining wrappers and filling, laying the ravioli in a single layer on the platter or baking sheet.
Heat a large pot of water to boiling. Carefully drop the ravioli into the water and cook for 3 minutes. Drain ravioli. In the empty pot, stir together the broth and sour cream. Return the ravioli to the pot and gently stir to coat with the sauce. (Do this as quickly as possible to prevent the ravioli from sticking together.) Sprinkle with the parsley and serve immediately.
Pumpkin Pancakes
¾ cup all-purpose flour
½ cup whole-wheat flour
2 Tbsp. brown sugar
2 tsp. baking powder
½ tsp. salt
½ tsp. ground cinnamon
½ tsp. ground ginger
1/8 tsp. allspice
1 cup milk
½ cup pureed pumpkin
2 large eggs
2 Tbsp. vegetable oil, plus more for the pan
Maple syrup, powdered sugar, or topping of your choice
In a large bowl, stir together the flours, sugar, baking powder, salt, and spices. In a medium bowl, whisk together the milk, pumpkin, eggs, and oil. Stir the pumpkin mixture into the flour mixture just until combined.
Heat a nonstick skillet or griddle over medium heat and lightly brush with oil. Pour about ¼ cup batter onto the pan for each pancake. Cook until bubbles form on the tops and the bottoms are browned, about 2 to 3 minutes. Flip the pancakes and cook the other side until lightly browned. Repeat with the remaining batter. Serve with the topping of your choice.
How to Make Pumpkin Puree
Although canned pumpkin puree is convenient and good, you can easily make your own. Start by choosing a pumpkin meant for cooking, not carving. They're smaller than carving pumpkins and may be labeled "sugar pumpkins." Cut the pumpkin in half and scoop out the seeds, then cook it in one of three ways:
Oven - Place the halves cut-side-down on a baking sheet sprayed with cooking spray. Roast in a 400-degree oven for about 1 hour or until the pumpkin can easily be pierced with a fork.
Stovetop - Place the halves in a large pot fitted with a steamer basket. (You may need to cut the halves into smaller pieces to fit in the pot.) Put about 1 inch of water in the bottom. Cover and bring the water to a boil; boil for about 20 minutes or until the pumpkin is soft, adding more water if necessary.
Microwave - Place the halves in a large, microwave-safe dish. (You may need to cut the halves into smaller pieces to fit in the dish.) Add about an inch of water to the dish and cook on high for about 15 minutes. Check to see if the pumpkin is soft, cooking several minutes more if needed, until the pumpkin is done.
When the pumpkin is cooked, let it cool enough to handle, then scoop out the flesh and mash it or puree it in a blender or food processor.