Talk to a Therapist From Your Own Couch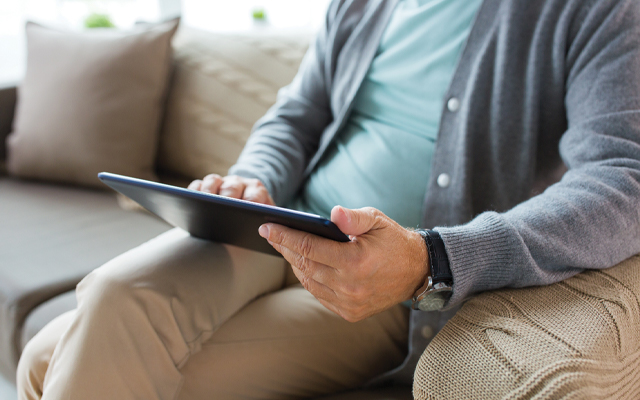 With the coronavirus disease (COVID-19) changing the way we live, many of us are struggling with stress, anxiety, depression, and other mental health issues. Talking to a therapist can help you feel better—and you can do that without even leaving your home. 
Through BCBSRI Doctors Online, you can talk with a licensed therapist or board-certified psychiatrist on your computer, tablet, or smartphone—for $0.
Care at your convenience
Psychologist Dr. Lindsay Henderson sees her patients for therapy sessions from an office right in her home. And her patients are also in their own homes (or wherever works best for them).
Video chat makes therapy available to more people who want help for mental health issues. "You can see the providers who are licensed in your state and when they have available appointments," said Dr. Henderson. She said you can usually get a therapy appointment within a few days or a psychiatry appointment within a few weeks.
The process is like traditional, in-office therapy. Dr Henderson said, "You can set up 45-minute therapy appointments weekly, twice a month, or whatever works best for you." Psychiatry appointments are 15 minutes and focus on medication management.
It's simple to get started
Did you know Doctors Online also offers 24/7 care for minor illnesses and injuries— for $0? Here's how to get 24/7 care or schedule a therapy/psychiatry appointment:
Download the BCBSRI Drs. Online app from the Apple App Store or Google Play* or visit drs-online.com. Have your BCBSRI member ID information handy.
Set up your user name and password. Then search for a provider.
You can also call 1-800-345-1419 to schedule a therapy appointment or 1-877-410-5548 to schedule a psychiatry appointment.
Please note: Anyone experiencing symptoms of COVID-19 should not go to a doctor's office, urgent care center, or emergency room without calling their doctor first (except in a medical emergency).
Another at-home option
In addition to Doctors Online, you have $0 coverage for clinically appropriate video and phone visits from certain primary care and behavioral health providers, including in-network primary care providers, clinical psychologists, and clinical social workers.
*Apple and the Apple logo are trademarks of Apple Inc., registered in the U.S. and other countries. App Store is a service mark of Apple Inc. Google Play is a trademark of Google Inc.
In the case of an emergency, you should always call 911. Doctors Online is not intended to replace these services and should not be used in those circumstances. Doctors Online is a telemedicine service provided by American Well®, an independent company that administers Doctors Online on behalf of BCBSRI.