Everybody Wins With Our Wellness App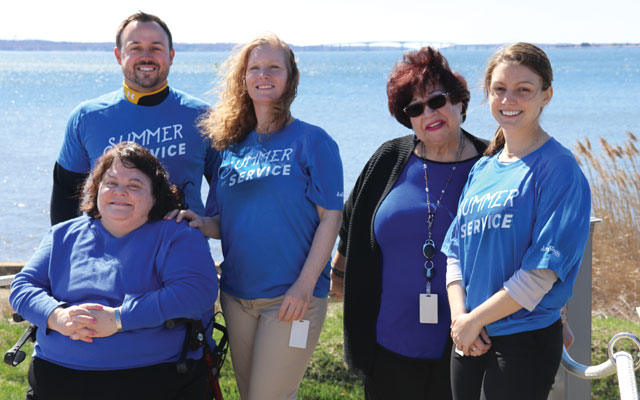 Justin Jay tapped his watch to check his steps. Dressed in a company T-shirt and sweats, it's easy to see why AmWINS chose him to lead the company's wellness committee.
"Wellness means a lot to AmWINS," he said. "We try hard to get everyone involved. It helps to blow off steam with a workout after work, or chill out with some yoga. There's a feeling that we're all doing this work, fitness, fun thing together."
The enthusiasm is contagious. Nearly half of the 120 employees in the Quonset branch participate in the company's wellness activities, which include weight-loss competitions, movement classes, a running club, strength training, nutrition seminars, even a kickball team. "Our close partnership with Blue Cross makes so much of it very easy," said Amy Greene, AmWINS' Director of Human Resources. "When events are announced, they generate a lot of interest."
BCBSRI's wellness app, powered by Virgin Pulse®, also makes wellness at AmWINS easy. "When we set up our weight-loss competition," Justin said, "we ran the whole thing through Virgin Pulse. It was a competition between offices, and the Virgin Pulse app made it so easy to keep track of everyone's progress. It integrates everything, from working out to the quality of your sleep to staying properly hydrated."
Amy said that everybody wins with wellness. "I really feel like our approach to wellness has everything to do with the value that we all place on taking care of our employees. We're a service-oriented company. If we take care of our people, our people will take care of our customers."
Get started
Access your wellness program1 in three simple steps. You may even be able to earn financial rewards for participating!
Sign up at join.VirginPulse.com or by downloading the Virgin Pulse app from the Apple App Store or Google Play.2
Choose Blue Cross & Blue Shield of Rhode Island as your sponsor.
Connect your wearable device to track and sync steps with the app.
1Virgin Pulse® is an independent wellness company, contracted by BCBSRI to provide wellness services. Virgin Pulse is available to BCBSRI subscribers (the primary person on the BCBSRI health plan) and their enrolled spouses. Not all employers offer Virgin Pulse through their plan. Standard mobile phone carrier and data usage charges apply. The downloading and use of the Virgin Pulse mobile app is subject to the terms and conditions of the app and the online stores from which it is downloaded.
2Apple and the Apple logo are trademarks of Apple Inc., registered in the U.S. and other countries. App Store is a service mark of Apple Inc. Google Play is a trademark of Google Inc.