Kale Chips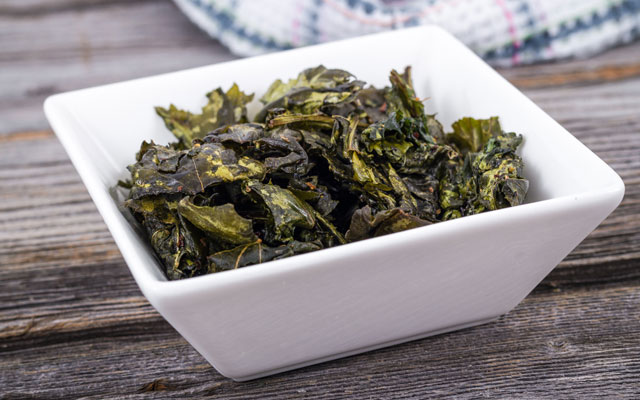 Ingredients
2 teaspoons olive oil
1 bunch kale leaves, rinsed, dried with stem and center rib removed
Salt and pepper (to taste)
Garlic powder, crushed red pepper, or spice of your choice (to taste)
Directions
Preheat oven to 250°F.
Toss kale with oil in large bowl.
Sprinkle with salt and pepper and optional spices.
Arrange leaves in single layer on 2 large baking sheets. Bake until crisp, about 30 minutes for flat leaves and up to 33 minutes for wrinkled leaves.

Transfer leaves to rack to cool. Break or cut with scissors in chip-sized pieces before serving.
Nutritional info
62 calories, 2.3 g total fat (.3 g saturated fat), 0 mg cholesterol, 37 mg sodium, 8.9 g total carbohydrate, 2.5 g protein
---
Notes
This recipe works best with Lacinato, or "Dinosaur Kale." An olive oil mister is great for lightly coating the leaves of kale with oil. Instead of tossing the oil in a bowl with the leaves, just lightly spray the leaves before tossing with spices.
---
Source
Farm Fresh Rhode Island