Sweet & Sour Winter Slaw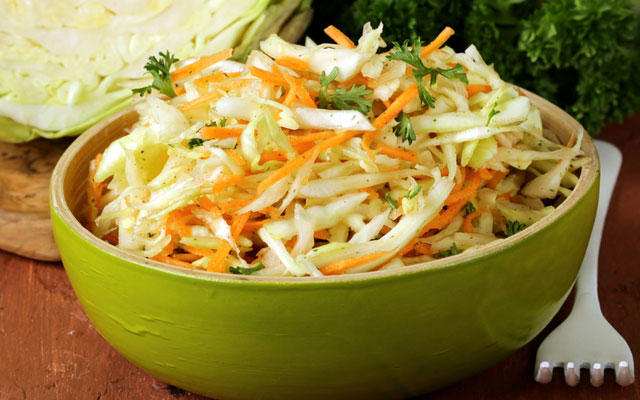 Ingredients
1 bunch kale, stems and leaves separated
1 bunch bok choy, stems and leaves separated
2 Hakurei (salad) turnips, shredded
1 large carrot, shredded
1 large or 2 small leeks, trimmed of dark green tops and sliced in thin rounds
1 lemon zested and juiced
1/3 cup red wine vinegar
¼ cup maple syrup
2 Tbsp. olive oil
1 tsp. kosher salt
Ground pepper to taste
Directions
Stack the leaves of kale and roll them the long way into a cigar-like tube. Using a chef's 

knife, slice across the tube of leaves to create long, thin ribbons. Do the same with the bok choy leaves. Slice the stems into matchsticks.

Toss kale and bok choy into a large bowl with shredded turnip, shredded carrot, and leek.
Combine lemon zest, lemon juice, red wine vinegar, maple syrup, olive oil, salt and pepper in a small bowl. Whisk to combine and add to vegetables. Toss to thoroughly mix.
Notes
This salad would be great with julienned radish, green beans, and even raw beets! Leeks can be replaced with scallion or red onion. Add texture and variety by sprinkling sliced almonds or sunflower seeds and dried cranberries on top.
---
Source
Farm Fresh Rhode Island